Dineout Vancouver 2019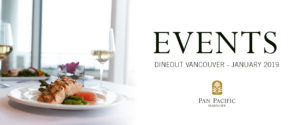 Food Enthusiasts, you visited Vancouver at the perfect time! Every January, the city welcomes Dine Out Vancouver, the signature culinary event of the year. During this time, participating restaurants release special 3-course menus that include a range of their dishes at a wonderful price. Menus range from $25 – $45 per person.
This year, Dine Out Vancouver runs from January 18 to February 3. Intrigued? Save your appetite for Chef Sean Murray's delicious Oceans 999 menu – just steps away from your hotel room.
To reserve your table, follow any of these steps:
DINE OUT VANCOUVER MENU
APPETIZERS
PARSNIP & COCONUT SOUP
Gingerbread Crumble, Star Anise Honey
Wine Pairing Recommendation- See Ya Later Riesling BC VQA $11.25
OR
OLIVE OIL POACHED BUTTERNUT SQUASH
Apple Butter, Golden Ears Neufchâtel Cheese, Hazelnuts, Tarragon
Wine Pairing Recommendation- Sumac Ridge Unoaked Chardonnay BC VQA $10.75
OR
BABY KALE SALAD
Toasted Hemp Hearts, Crispy Lentils, Apple Cider Vinaigrette
Wine Pairing Recommendation- Inniskillin Pinot Grigio BC VQA $11
___
MAINS
SLOW COOKED LAMB SIRLOIN
Kale & Chickpea Pancake, Black Olive Honey, Cumin Vinaigrette
Wine Pairing Recommendation- Sumac Ridge Merlot BC VQA $11
OR
ANCIENT GRAIN BOWL
Brussels Sprouts, Winter Squash, Cranberry-Miso, Marcona Almonds
Wine Pairing Recommendation- See Ya Later Riesling BC VQA $11.25
OR
PAN ROASTED LING COD
Octopus Bacon, Golden Potato, Celery Hearts, Black Garlic
Wine Pairing Recommendation- Mission Hill Estate Series Pinot Noir BC VQA $15
___
DESSERT
SWEET POTATO CHEESECAKE
Yuzu Jelly, Orange Compote, Red Wine Caramel, Candied Ginger
Wine Pairing Recommendation- Mission Hill Estate Series Pinot Noir BC VQA $15
$35 PER PERSON
ADD A SIDE $8
Roasted Carrots, Cashew Butter, Crispy Garlic
Fried Rösti Potatoes, Black Pepper Béarnaise
*Taxes and gratuity not included