Staff Spotlight: Mahmoud Mohamed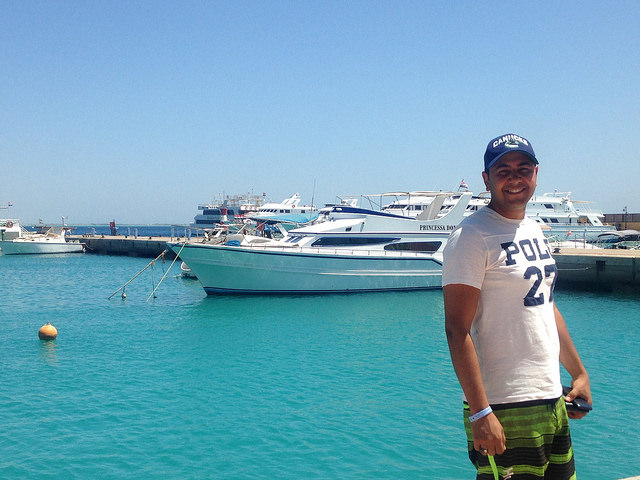 Each year Pan Pacific Vancouver celebrates International Housekeeping Week. This year we threw our housekeeping staff a dinner and a 1960s themed karaoke talent show. A fun time was had by all! One of the people who spearheaded, as well as MC'd the event, was none other than the Director of Housekeeping, Mahmoud Mohamed. (in costume and everything!) And today we shine the staff spotlight on him!
Hello Mahmoud! How long have you been with Pan Pacific Vancouver?
Hello! I have been here two years.
What's a typical day like as Director of Housekeeping?
Housekeeping is commonly referred to as 'the heart of the hotel', which I think is extremely fitting since any hotel would cease to function properly without this fundamental department.
My day in housekeeping starts as early as 6am until 6pm. I work with the 120 associates to prepare 503 rooms and suites to be ready for our guests by 4pm. I distribute assignments for the housekeeping team, as well as, recruit and train new employees. Also, I approve all supply requisitions and maintain a lost and found department.
What's your favourite part about your job?
Seeing the guests' reactions when we exceed their expectations and receiving positive feedback about my department or the hotel.
What are the most challenging aspects about your job?
That would be having 400 rooms cleaned after check-out (12pm) and be ready for 4pm, especially during our busy summer season. But we make it happen and with a big smile!
What's the strangest thing you've ever found left behind in a room?
A guest left behind their wedding rings and passports after their wedding. The gest called the hotel from the airport and asked if we could send the items to the airport within 30 minutes. And of course, we did it.
Do you accommodate special requests from guests? For example, items they want in their room prior to checking in or during their stay in order to create that "home away from home" feeling the Pan Pacific Vancouver is known for? What's the most memorable request?
Guests have asked us to have towels folded in the shape of animals (like they do in resorts) upon arrival. I folded an elephant and a monkey for them. The guest was so happy!
Tell us a little known secret about working in housekeeping?
We use multi-tasking products. Manufacturers love to sell consumers lots of little specialty tools and cleaning chemicals that do only one thing or clean one special type of surface because it's an easy excuse to get you to buy more stuff. I suggest buying a disinfecting all-purpose cleaner than can also clean glass, a disinfecting bathroom cleaner and a floor cleaner that is safe on wood and tile.
You were named Pan Pacific Vancouver's Leader of the Year in 2014. Congratulations on the achievement! Was it a surprise and how did you celebrate?
Thanks! It was incredibly humbling to be awarded, especially with such a great hotel like Pan Pacific Vancouver. I feel like it still hasn't sunk in quite yet. I'm so thankful for all the support I've received over the last two years.
Last question! What do you like to do for fun when you're not working?
I love spending time with my wife Noha, and my boys Abd elrahman and Omar, hanging out with friends, as well as, fishing and traveling!