Holiday Luncheon Experience at Pan Pacific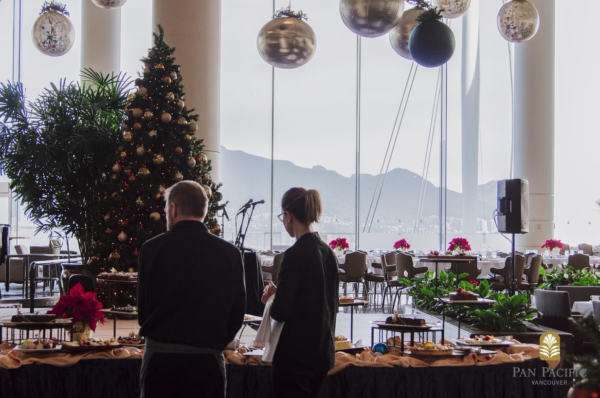 Pan Pacific Vancouver presented the annual Oceans 999 tradition, Winter Solstice Luncheon, on December 6, 7, 13, 14 & 15 2017.
Over the course of five luncheons, more than 1,000 customers came to celebrate the holiday spirit and enjoyed our tantalizing buffet accompanied by talented pianists. We were proud to be a part of our customers' shared memorable holiday moments with their friends and family.
This year, we precisely put together various delicious food displays including festive salads, international cheese and west coast seafood displays, hot buffet selections, tasty carvery and multiple dessert temptations.
We had the opportunity to capture the highlighted moments and would love to share our story with you.
Festive Salads
Our festive salads were fresh, delicious and just to-die-for. We served market green salad with selection of dressings.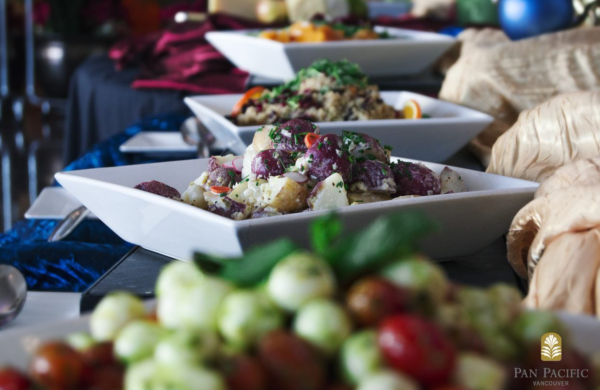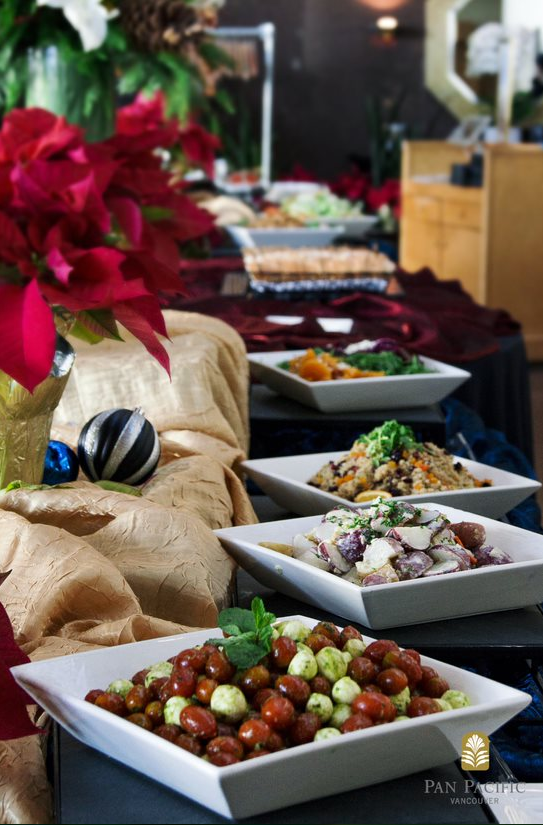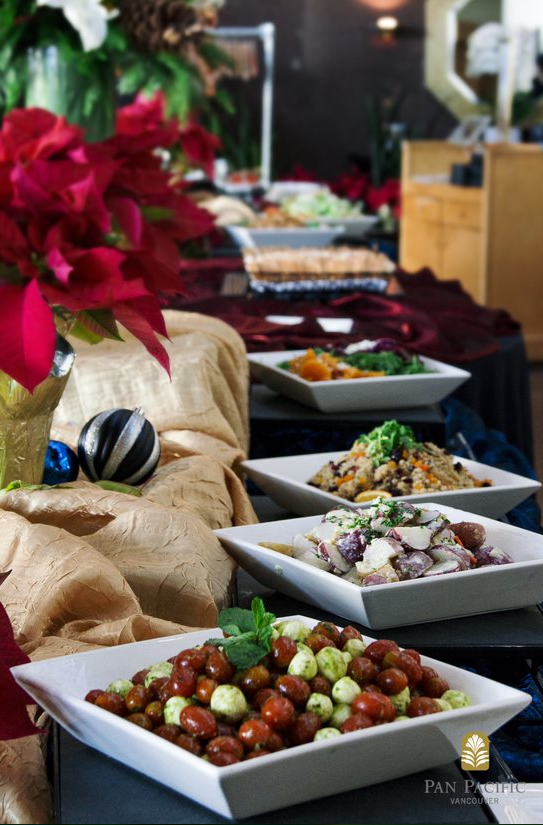 · Hearts of romaine caesar salad, focaccia croutons & parmigiano reggiano
· Quinoa salad with dried fruits, parsley, mandarin vinaigrette
· Golden & red beet salad, artisan goat cheese, and roasted sunflower seeds
· Chickpea salad with tomato, feta, chili, and herbs
· Tomato and bocconcini salad with basil and extra virgin olive oil
· German potato salad with pommery mustard, dill, and apple cider vinegar
Cheese Displays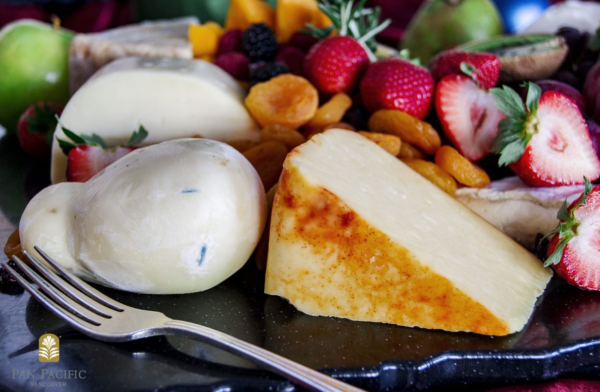 We selected only top-class local artisan & International cheeses. Candied pecans, dried fruits, Raincoast crisp, water crackers and French baguettes were great appetizers to start off.
Seafood Displays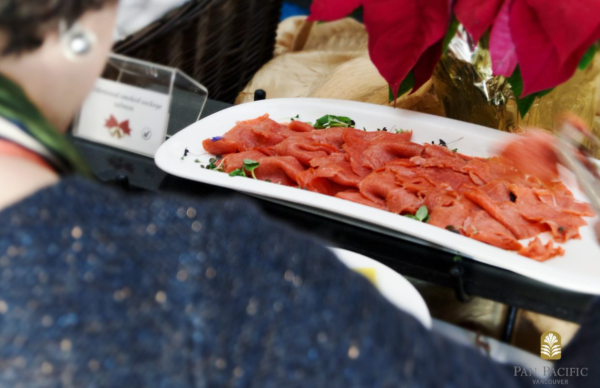 For those who enjoyed the lighter lunch, we had refreshing cold seafood displays including:
· Vodka and beet marinated salmon gravlax with fresh dill
· Alderwood smoked sockeye salmon
· Traditional condiments, lemons, cocktail sauce, brandy sauce
Hot Buffet Selections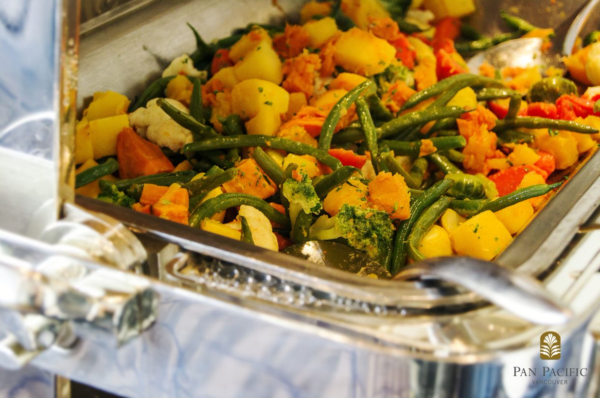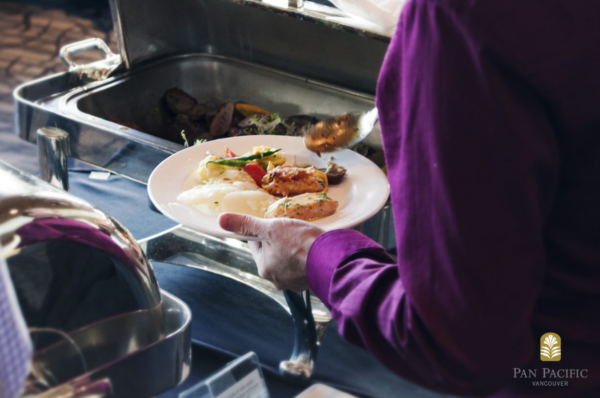 We precisely selected our main courses to serve everyone's taste. Anyone from meat lovers to vegetarians could find something to their liking. Our selections of the year were:
· Herb crusted salmon with sweet and sour clementine and lime leaf beurre blanc
· Red wine & star anise marinated breast of Fraser Valley duck
· Spinach, kale and ricotta cannelloni with sun ripened tomato Vegetable pilaf
· Extra virgin olive oil tossed seasonal baby vegetables Maple roasted root vegetables
· Classic Swiss cheese gratin potato
Reading this is making us drool again!
Carvery
Unique taste of carvery warmly served by our chefs were everyone's favourite.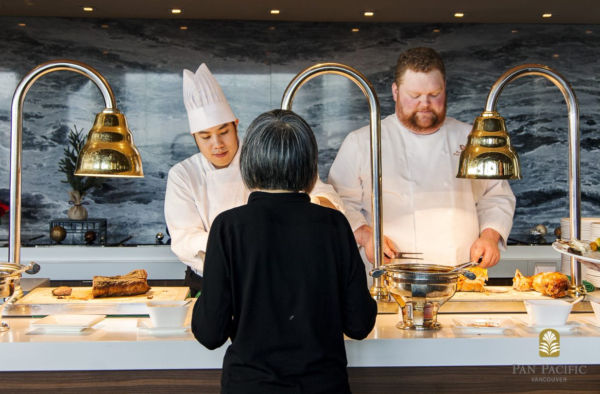 We proudly featured three unique carving stations:
· Ancho chili and coffee rubbed beef striploin with café au lait jus
· Maple syrup and bourbon brined turkey breast with thyme gravy
· Honey & citrus glazed ham with a selection of mustards
Dessert Temptations
There is always room for dessert! Our selections included mouth-watering popular Christmas traditional desserts that were everyone's favourite especially for the sweet tooth!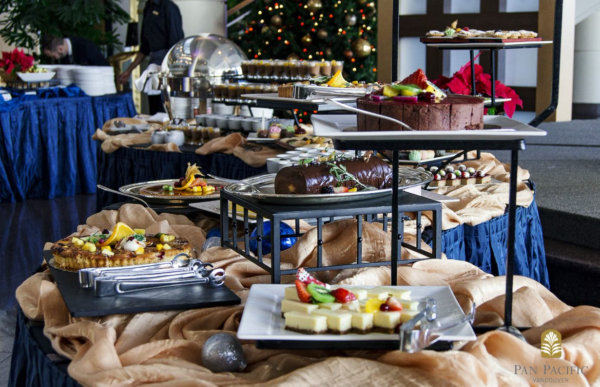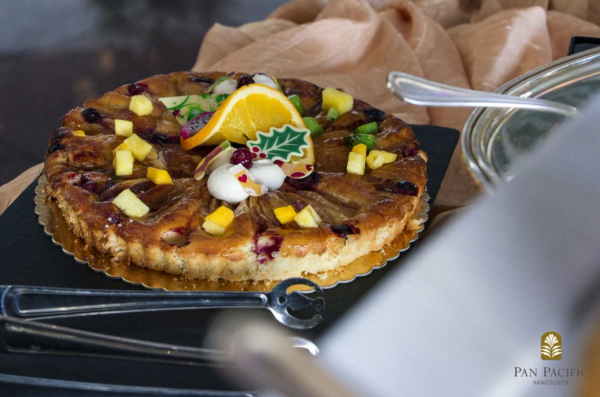 Our festive display of assorted cakes & pies featured: yule logs, decadent chocolate cake, eggnog cheese cake, truffle, carrot cake, raspberry mousse, pear cranberry pie, clafoutis, French pastries, mince tarts, cake lollipops, crème brûlée, warm bread pudding, red velvet cupcakes, Christmas cookies, Swiss brownies & traditional German stöllen
The Unique Experience
All luncheons were accompanied by talented pianists. Special thanks to Dan Graham, Sasha Veregin and Jim Kwan for bringing a touch of holiday spirit to all diners.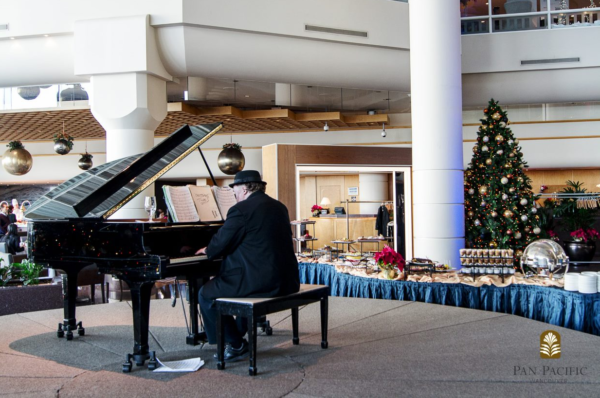 Dine with the view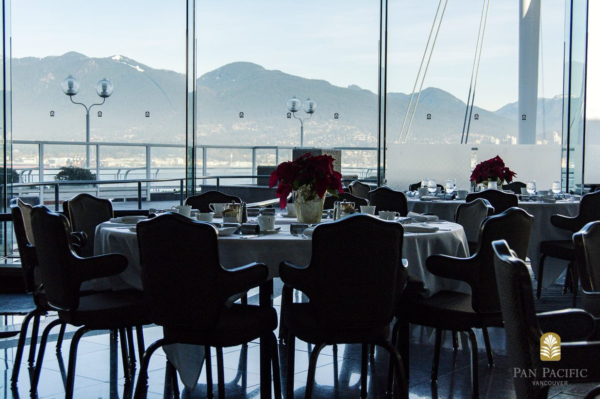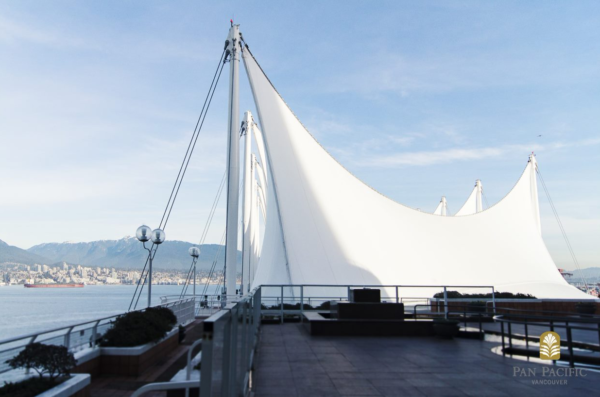 The stunning iconic view from Oceans 999 restaurant perfectly complimented the luncheon experience, making it one of the most popular Christmas traditions at Pan Pacific Vancouver.
Our 2017 Winter Solstice Luncheons successfully prepared Pan Pacific Vancouver and its visitors for the holidays injecting them with the holiday spirit. This year, our team has put countless amount of hard work to bring holiday joy and delicious festive buffets to
our customers. The five luncheons were all very well received and we were happy seeing all the diners share this magical moments with their friends and family.
Christmas and New Year are just around the corner, and to continue the holiday traditions join our Pan Pacific's events to celebrate your favourite time of the year at T'was the Night Before Christmas buffet night on December 24th and enjoy the fireworks at the famous Pan Pacific's New Year's Eve Celebration!
We are ready to elevate your holiday dining experience. This year, let Pan Pacific be a part of your last magical moments of 2017. Let's celebrate the festive season together.