Staff Spotlight: Edd Wright + Dolores Scott, Performers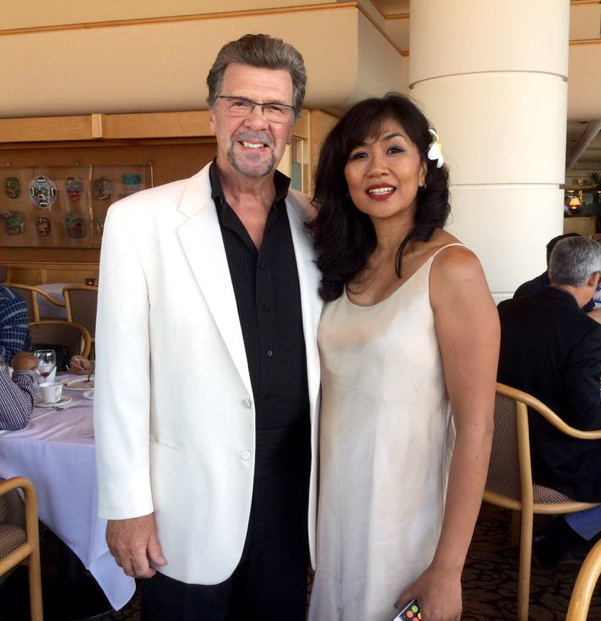 Welcome to our new blog series: Staff Spotlight. This is where you'll meet the people who make it happen! With over 400 associates working at Pan Pacific Vancouver, there are a lot of personalities and a lot of stories to tell!
Today we shine the spotlight on entertainers Edd Wright and Dolores Scott. The opera-singing duo are one of our long-time fixtures at Opera Buffet, which takes place at the Cafe Pacifica every Saturday evenings. While guests are dining on delicious Italian fare, they're performing classic opera arias. It's a feast for all the senses!
Tell us a little bit about yourself.
Ed – My singing career started in a children's choir that was seconded for the Vancouver Opera's first production of Carmen. Sang with them for 17 years in the chorus and performed many comprimario roles. I also do a bit of acting. I've performed in operas, musical theatre productions with The Arts Club, Theatre Under the Stars, film and television. I feel fortunate that my work has taken me across Canada, to Europe and the US.
Dolores – I'm originally from the Philippines but grew up in Surrey. I have a Master's in music/opera, and teach voice at my studio. I've toured as a soloist throughout Hungary and Germany. I've also had the honour of performing for Emperor Akihito and Empress Michiko of Japan with the Vancouver Chamber Choir.
How long have you been performing with Pan Pacific Vancouver?
Ed – Since 1998. That's 17 years! I'm getting close t my 700th performance with the Pan Pacific.
Dolores – I'd say 10 years.
What's your favourite part about your job?
Ed – Entertaining the audience and speaking with them before and after.
Dolores – I would say it's between the people, the music and the food! But seriously, I love that people appreciate what I love to do.
Do you ever get nervous about performing?
Ed – At this point, I do not get very nervous, as I have done it for so long. Although there is always a bit of nervous tension, as you sing your best.
Dolores – Not so much any more. I have learned that everyone wishes you well when you get up there to sing. No one wants to hear you sing badly. (haha!)
What's your favourite opera, composer or aria?
Ed – There are so many that I enjoy. If I had to pick one, I suppose it would be Aida by Verdi. My favourite composer is Puccini. And my favourite aria would be the one I'm singing at the moment.
Dolores – I'm very much in love with all opera, if it's sung well. That is, with the sincerity of one's soul. You can always tell if someone is "putting on" their expression. In any type of expression, sincerity is everything!
While singing, you may have been witness to some wonderful occasions. Any special moment you want to share with us while performing at Cafe Pacifica?
Ed – Over the years there have been many special moments. For instance, when people tell us that we've made their holidays and were the best part of it. I was told one evening that we a couple fall in love all over again. We've often moved people to tears of enjoyment which is very special for us.
Dolores – There have been moments when I have felt I have never sung better, but when a European guest and his daughter said I sang better than Netrebko, that took the cake. It was the most amusing moment of my life!
Do you ever get any song request from the crowds?
Ed – Seldom, but one of the most popular request would be something from The Phantom of the Opera (which we always do a couple of numbers from). We're often been told that our choice of repertoire is exactly what guests wanted.
Dolores – Many people request 'Un bel di' from Madama Butterfly. I learned it for them, even though it's a bigger role than I would normally sing.
Besides opera, what kinds of other music do you listen to? Do you sing anything other than opera? (if even just for yourself)
Ed – We perform many different kinds of music at the Pan. Not just opera. We sing Italian love songs and musical theatre numbers. I listen to a very eclectic range of music – from opera, to Billy Joel to the old standards from the 40s and 50s.
Dolores – I'm also a member of the Vancouver Chamber Choir, and I love choral music! VCC is musically exceptional and world renown. I also love jazz, theatre music and heavy metal.
What do you do for fun when not working at the Pan?
Ed – I enjoy going to the theatre. During the summer months, I go camping!
Dolores – I knit. I especially enjoy knitting socks. At the end of a full day of rehearsals, teaching, preparing and practicing for performances, I watch a murder mystery du jour on Netflix, and knit a sock in front of the fireplace.