Staff Spotlight: Aileen, Pacific Club Floors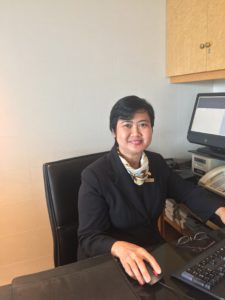 Welcome to our Staff Spotlight blog series! This is where you'll meet the people behind the Hotel. With over 400 associates working at Pan Pacific Vancouver, there are a lot of personalities and a lot of stories to tell!
Today we shine the spotlight on Aileen, who will be celebrating 8 years with the Pan Pacific on our Pacific Club Floors this October:
Tell us about yourself:
I was born in the Philippines, on the beautiful island of Mindanao. Fun fact: I lived near the city where boxing champion Manny Pacquiao lives!
After working in Bahrain for many years, I moved to Vancouver in March 2009.
How long have you been with Pan Pacific Vancouver?
I started working in the Pacific Club Lounge in October 2009.
What is a typical day working on the Pacific Club floors like?
Up in the Pacific Club Lounge, we are responsible for the whole guest experience from private check-in, to personalized concierge services, to arranging our breakfast buffet and evening hors d'oeuvres, and everything in between. My days look like a bit of everything from setting out our appetizer selections to advising guests on the best activities and booking dinner reservations.
Every day is different but I always try to make guests feel welcome in their home away from home.
What is your favourite part of your job?
My favourite part is the interaction with guests – making sure they're happy, enjoying their stay and discovering all that Vancouver has to offer. I love seeing guests return again and again!
One of the highlights for Pacific Club guests is the complimentary breakfast and evening hors d'oeuvres in the Lounge – what's your favourite food that we serve?
Hmm, I might have to go with foods, not food – too hard to choose! I love our West Coast breakfast selection, especially the smoked salmon. And the oatmeal too… so many toppings and fresh cut fruit for a cosy autumn breakfast!
What is your favourite Pacific Club room?
I love the Pacific Suite, especially the jacuzzi tub in the spa bathroom (with its amazing view!).
Last question: favourite hobby? 
Walking, relaxing with movies or a great TV show, and bowling!
---
Thank you so much to Aileen for her time!
Have you experienced our luxurious "Hotel within a Hotel" on the Pacific Club Floors yet? Let us know your favourite memory of your stay with us down in the comments!
Connect with us on Facebook, Twitter and Instagram to stay in the loop with everything going on at the Hotel and around Vancouver, and follow our Instagram Stories for a behind the scenes look at #panpacificvancouver life!