Spa Utopia & the Pan Pacific Hotel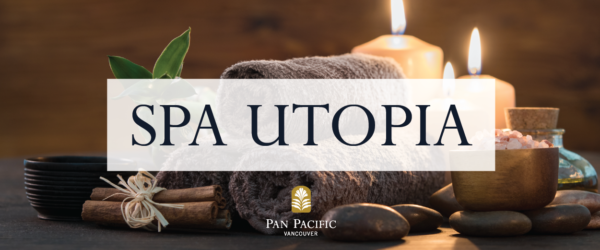 Spa Utopia is a short elevator ride away from the Pan Pacific Hotel, but stepping into the spa itself is like stepping into another world—a parallel universe dedicated wholly to luxury and comfort.  
From the brightly lit reception with its tinkling waterfall and stunning glass features, to the mood lighting, cavernously tall ceilings, and gorgeous Tuscan pillars of the interior of the spa, the facilities at Utopia are truly flawless.  
The Spa offers a wide variety of award-winning services including massage therapy, facials, body care, hand and foot treatments, waxing, and salon and beauty care. If you're looking for that perfect Mother's Day gift, we highly recommend one of Utopia's Spa Packages. 
The Tranquility Wrap, a full body massage during which you are gently lathered in Utopia's signature "tranquility" lotion, is 75 minutes of pure relaxation. Feel the tension leave your body as the muscles in your legs, arms, hands and shoulders are expertly kneaded and unwound. At the end of those 75 minutes, you will feel rejuvenated and at peace from the inside out.  
The Spa's "It's a Wrap" service matches this divine treatment with a luxury manicure and pedicure. Pair your spa package with a night at the Pan Pacific Hotel, and there you have it: the perfect gift for mom! Our exclusive Retreat, Recharge & Reconnect offer includes a deluxe guest room with access to our salt water pool and complimentary breakfast for two, with a 300-dollar gift card for spa services and lunch for two at Utopia. Click here to view full offer details.  
What better way to pamper your mom, and yourself in the process, this Mother's Day, than with a world-class spa day followed by a luxurious night at the Pan Pacific Hotel? For any questions or to inquire about availability, feel free to get in touch here.