We are Canadian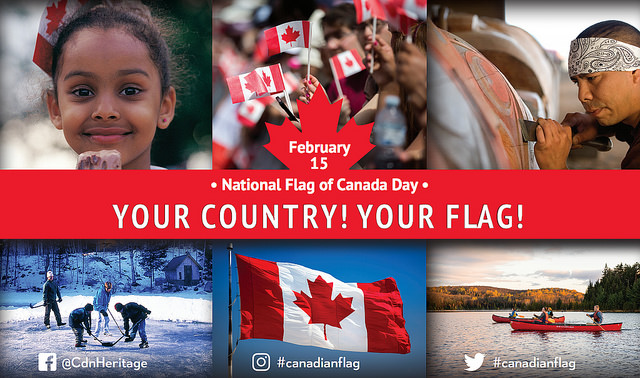 Photo credit: Government of Canada
In recognition of National Flag Day of Canada and the lead up to Canada's upcoming 150th birthday, or sesquincentennial, we asked our staff (some of whom were a wee bit shy and chose to remain anonymous) to share with us their thoughts about their love for Canada.
What does being a Canadian mean to you?
It's the utmost pleasure to introduce myself as a Canadian. It's been a privilege to immigrate here at such an early age. – Natalia
I can be whoever I want to be and do whatever I want to do. – Alexandra
Freedom to live my best life and do so in an environment that is inclusive, welcoming and friendly! – Haley
Love the cold weather! Saying, "eh." Loving the Queen. – Pete
Canadians are proud of their citizenship. We value the rights and freedoms, and embrace the responsibilities that this status gives us. – Cruz
The land of opportunity. True multicultural opportunities to become who you want. Strong financial and medical system. Equal opportunities. – Rajya
Freedom from war and that we have everything that we'd want at our fingertips. – Luisa
Being a loving, welcoming group of people with fantastic manners! – Anon.
It means having life-long opportunities and a quality of life, unparalleled anywhere in the world. – Anon.
Freedom of speech and religion, diversity and respect. – Anon.
Accepting others, no matter their backgrounds or where they're from. – Anon.
Proud to be Canadian! Great country and very multicultural. Freedom on many levels, as well as, Canadians being well received in any country. – Anon.
The freedom and acceptance to be who I am and the opportunity this provides. Canadians are admired, respected and envied for this by the rest of the world. – Anon.
Living in a multicultural country which provides great choices in food from all different backgrounds. Being a Canadian also means I have my freedom. – Anon.
What do you feel is the best thing about being Canadian and/or living in Canada?
The freedom I have to live my life in the manner I choose. Thank you Canada! I love you! – Natalia
The safety, the freedom, and the opportunities. – Alexandra
No matter where you travel around the world people love Canadians! – Haley
You can be overly polite, just like the Brits and it's ok. – Pete
I'm very proud to be Canadian and live here permanently with my family. Long live Canada. – Cruz
If you are hardworking, the sky's the limit. You can achieve any impossible thing here. This is the only true land for everything. – Rajya
Celebrating the birth of our awesome son who was born on Canada Day! – Juliet and Angelo.
CPP, medical, old age security. – Luisa
The amazing diversity. We are not a melting pot, but rather a large, wonderful pot of soup filled with cultures adding a unique and wonderful flavour to embrace and enjoy. – Anon.
Beautiful views and great beer! – Anon.
The outdoors, beautiful landscapes and the people are friendly! – Anon.
Space, freedom, and natural beauty. – Anon.
The best thing about living in Canada is our health care system which is very important, plus the fresh air we breathe contributes to our healthy lifestyle. The nature is amazing! – Anon.
Connect with us on Facebook, Twitter and Instagram to stay in the loop with everything going on at the Hotel and around Vancouver!