Three Course Prix Fixe Dinner for Two or Four at Oceans 999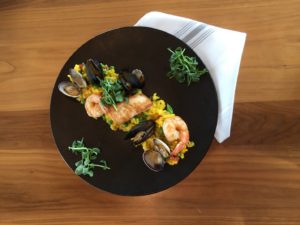 Beginning this evening at Oceans 999, our exclusive Groupon offer for two ($78 plus tax) or four ($156 plus tax) invites you to savour the best of B.C. with a delicious assortment of dishes to choose from. Scroll down for the full menu, but be warned: you will definitely be hungry by the end!
MENU
FIRST COURSE
B.C. Seafood & Corn Chowder
manila clams, salmon, scallops, baby shrimp, potatoes, leeks, fresh herbs
Or 
Smoked B.C. Sockeye Salmon Rillettes
pickled Pemberton golden beets, crème fraîche, rye soil
Or 
Panzanella Salad
local heirloom tomatoes, sourdough, compressed B.C. hothouse cucumber, basil oil, piquillo pepper, Barnston Island basil 
* * *
SECOND COURSE
Mushroom Ravioli
king oyster mushrooms, arugula pesto, arugula salad, balsamic, parmesan
Or 
B.C. Seafood Paella
prawns, clams, Salt Spring Island mussels, grilled B.C. coastal lingcod, saffron & chorizo risotto, summer peas, pea shoots
Or
Grilled Flank Steak
ancho spiced Chilliwack corn wheel, black bean mole, baby cilantro, chimichurri
* * *
THIRD COURSE
Local Strawberry Tasting
strawberry shortcake, lime meringue, strawberry yoghurt gelato, almond streusel, strawberry gel, fresh strawberry garnish 
* * *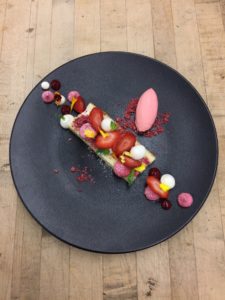 The only question left is which dish to choose!  See you soon!
Connect with us on Facebook, Twitter and Instagram to stay in the loop with everything going on at the Hotel and around Vancouver, and follow our Instagram Stories for a behind the scenes look at #panpacificvancouver life!