Seize the Summer On Our Patio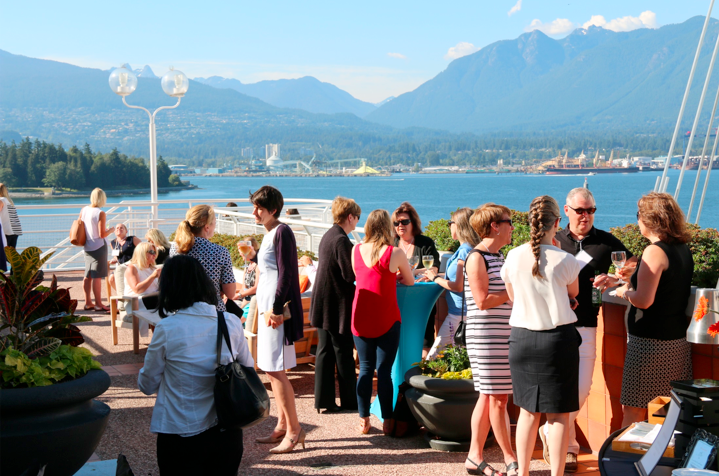 Summer is the perfect time to enjoy some fun in the sun with your favourite people, as well as, indulge in delicious appies and refreshing cocktails, all in a spectacular waterfront setting.
So whether you want to treat your staff and thank them for all their hard work throughout the year, or host a party for your nearest and dearest, our patio is now available for private bookings!
Celebrate summer with our patio menu:
Chips + Veggies + Dips
Red, yellow, blue corn chips, plum tomato salsa and avocado dip
Fresh vegetable crudite display, hummus, herb and red pepper dips
Savoury Delights (passed)
Alberta beef sliders of brioche buns, kosher dill pickle, frisee greens and grainy Dijon
Queen Charlotte halibut fish and chips in a cone
Indonesian spiced marinated chicken satay with sweet hoisin peanut sauce
Falafel mini pita with hummus and tabbouleh salad
Spicy Korean chicken wings
Desserts (passed)
Fruit skewers with Belgian chocolate sauce
Sun-kissed Okanagan peaches and cream
Price:
$63 per person (minimum 75 guests)
Includes set-up feel and service staff for a 2 hour patio reception
Taxes and service fees will apply
Call 604.895.2489 or email catering@panpacificvancouver.com to book your spot today!
** For beverage service or customized set-up, please contact the catering manager for a quotation.
Connect with us on Facebook, Twitter and Instagram to stay in the loop with everything going on at the Hotel and around Vancouver!