Events and Entertainment Around Town – August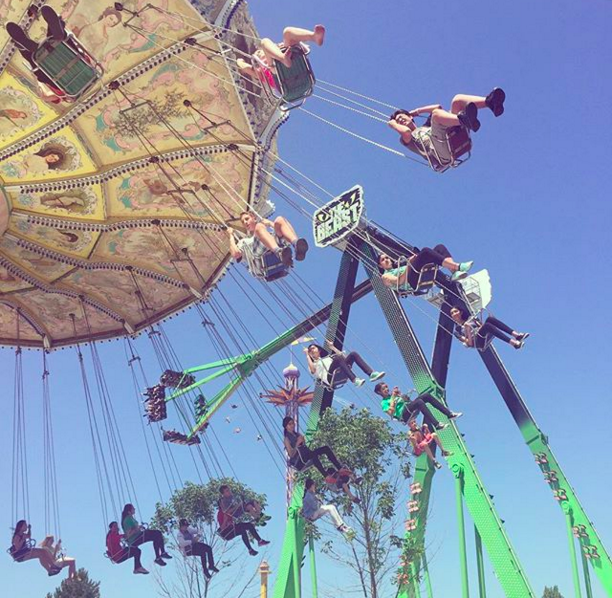 Photo credit: Playland
Is it August already?! Seems like the summer is just flying by, doesn't it? It's time to get serious about maximizing your time and making the rest of the summer count.  Get out there for the free dancing, free music, theatre and movies under the stars, farmer's markets and we can't forget Playland at the PNE.
Sunday Afternoon Salsa – Robson Square
Event dates: July 3-August 7 | Time: 3pm onwards
For nine Sundays, every week from July 3 to August 8, join in the Salsa fun with daily half-hour lessons at 3pm, performances at 5pm and casual dancing all day long.
3rd Annual Vancouver Metropolitan Orchestra – Jack Poole Plaza
Event date: August 4 | Time: 7pm-9pm
Night Nation Run Vancouver – Starts at PNE
Event date: August 6 | Time: 5:30pm onwards
In support of Stand Up to Cancer, the event mixes a 5 kilometre run with lights, lasers and live music to carry you along the way. Starting at the PNE, a pre-party event will get your feet tapping and your heart rate up, before the run starts. From there, party stations and DJs will guide you along the route towards the finish line and an explosive after party featuring special guest performers.
Patrick Maliha – The Comedy Mixx
Event dates: August 4-6 | Various times
Patrick Maliha is the world record holder for most impressions in one minute – beating out the previous record holder, Dana Carvey. His act has been described as Ray Romano meets a 21st century Don Rickles.
Harmony Arts Festival – West Vancouver Waterfront
Event dates: July 29-August 7 | Various times
The festival draws crowds from all over the Lower Mainland to celebrate a harmonious balance of visual, culinary, literary and performing arts on the spectacular West Vancouver waterfront.
Richmond Maritime Festival – Britannia Shipyards
Event dates: August 6-7 | Various times
Free family festival for seafarers and landlubbers alike to celebrate Steveston's waterfront heritage at the spectacular Britannia Shipyards, National Historic Site in Richmond.
YVR Food Fest: Streetfood Showdown – Olympic Village
Event dates: August 6-7 | Various times
Summer's biggest food event (over 80 food trucks gathered in one place.
Vancouver Whitecaps vs San Jose Earthquakes – BC Place
Event date: August 12 | Time: 8pm
BC Lions vs Hamilton Tiger Cats – BC Place
Event date: August 13 | Time: 7pm
Tim Nutt – The Comedy Mixx
Event dates: August 11-13 | Various times
Tim Nutt pushes comedy to explosive new levels and dimensions. He expertly explores the hilarity in everyday life. You'll delight to his bizarre concepts and twisted viewpoints, all delivered with extra-planetery talent.
Vancouver Chinatown Festival – Columbia and Keefer Streets
Event dates: August 13-14 | Various times
Last year, over 53,000 festival goers converged on the streets of Columbia and Keefer in historic Chinatown to experience the biggest multicultural summer celebration in town. Festival activities included day market, 'Historical and Food Tasting Walking Tour', Desjardins kids corner, multicultural stage performances, cultural corner, TD Youth Talent Showdown, Young Star Challenge, theme-related activities and Streetfest.
Musical Nooners (Mon-Fri) – Hamilton Street (between Georgia and Robson Streets)
Event dates: July 8-August 19  | Time: 12pm-1pm
The sounds of summer are here as CBC Musical Nooners return for their seventh year! These free, live music concerts will be happening every weekday on the CBC Vancouver outdoor stage on Hamilton Street (between West Georgia and Robson)
BC Lions vs Calgary Stampeders – BC Place
Event date: August 19 | Time: 7pm
DJ Demers – The Comedy Mixx
Event dates: August 18-20 | Various times
DJ Demers is an award-winning stand-up comedian. He has performed stand-up on Conan and was the winner of the 2014 Homegrown Comics Competition at the prestigious Just for Laughs festival in Montreal.
Vancouver Queer Film Festival – Various theatres in downtown
Event dates: August 11-21 | Various times
Celebrating the best in independent queer cinema, the Vancouver Queer Film Festival is Vancouver's second largest film festival and the largest queer arts event in Western Canada.
EVO Summer Cinema Series – Second Beach Stanley Park at Ceperley Meadows
Event dates: July 5-August 23 | Time: Sunset
Every Tuesday: July 5 – The Outsiders, July 12 – Napolean Dynamite, July 19 – The Little Mermaid, July 26 – Rocky Horror Picture Show for Pride Week, August 2 – Space Jam, August 9 – Labyrinth, August 16 – Purple Rain, August 23 – Dirty Dancing.
Future Now: The Tour – Demi Lovato and Nick Jonas – Rogers Arena
Event date: August 24 | Time: 7pm
Gwen Stefani: This Is What It Feels Like Tour – Rogers Arena
Event date: August 25 | Time: 7pm
Thursday Enchanted Evenings – Dr Sun Yat Sen Gardens
Event dates: June 30-August 25 | Tim: 8pm-930pm
Enchanted Evenings Concert Series will turn the Dr. Sun Yat-Sen Classical Chinese Garden into a live stage for fiery trumpets and spacious flutes, mainstream jazz and swing tunes, funky folk-jazz and classical piano tunes.
India Live – 700 Granville Street
Event date: August 27 | Time: 12pm-8pm
Free event bringing Indian culture, music, dance and food to Granville Street.
Theatre Under the Stars – Malkin Bowl at Stanley Park
Event dates: July 6-August 27 | Time: 930pm
This year's features are West Side Story and Beauty and the Beast.
Duran Duran – Rogers Arena
Event date: August 28 | Time: 7pm
Pet-A-Palooza – 1100 Mainland Street
Event date: August 28 | Time: 11am-4pm
The West Coast's largest outdoor pet festival.
Sunday: Sounds of Summer – FlyOver Canada promenade
Event dates: August 7-28 | Time: 3pm-6pm
Featuring some of Vancouver's most talented buskers: David Boland (Aug 7), Nikita Afonso and Desiree Dawson (Aug 14), TBA (Aug 21) and Holly Benson (Aug 28)
Trixx – Comedy Mixx
Event dates: August 25-28 | Various times
Taboo shattering, searingly honest, and painfully funny, Frankie "TRIXX" Agyemang is one of Canada's rising comic stars. TRIXX, the 2013 Winner of Just for Laughts JFL42 Big Break competition (The Grid TO called "a brilliant set"), has opened for stars such as Tracy morgan, Damon Wayans, Cendric the Entertainer, Mike Epps, Aries Spears, Sugar Sammy, as well as, for his good friend and mentor, Russell Peters.
Friday Nights Summer Dance Series – Robson Square on 800 block
Event dates: June 24-September 2 | Time: 730pm-1130pm
It's back! Dance the night away for free as DanceSpot BC brings back the Robson Square Summer Dance Series. Free lessons, shows and social dancing. No partner or experience required – just show up and have some fun!
The Book of Mormon – Queen Elizabeth Theatre
Event dates: August 23-September 4
Hailed by The New York Times as "the best musical of this century" and the winner of nine Tony Awards, The Book of Mormon is the blockbuster smash from South Park creators Trey Parker and Matt Stone, and the Oscar-winning composer of Disney's Frozen and Avenue Q, Bobby Lopez. This outrageous musical comedy follows the misadventures of a mismatched pair of missionaries, sent halfway across the world to spread the Good Word.
America's Masters Games – Jack Poole Plaza
Event dates: August 27-September 4 | Various times
Opening ceremonies: Sat, August 27 (6pm-930pm) – the Olympic Cauldron will be lit during the ceremonies. Celebration site: Sunday, August 28-September 3. Site open: 12pm-10pm and entertainment is from 4pm-930pm. Closing ceremonies on Sunday, September 4 from 3pm-5pm.
Fair at the PNE – PNE
Event dates: August 20-September 5
Hundreds of new nightly performances, exhibits, more than 50 thrilling rides and attractions, plus lots of food!
14th Vancouver Latin America Film Festival – SFU Woodward, Cinematheque and Vancity Theatre
Event dates: August 25-September 9 | Various times
Exhibition of Latin America cinema in Vancouver.
Playland at the PNE
Event dates: May 7-September 18
Summertime fun at Vancouver's premiere amusement park!
Bard on the Beach – Vanier Park
Event dates: June 3-September 24 | Various times
This year's line up are: The Merry Wives of Windsor, Romeo and Juliet, Othello and Pericles. Annual festival underneath the tents of Vanier Park.
Granville Island's Farmer's Market – Triangle Square Granville Island
Event dates: June 2-September 25 | Time: 10am-3pm
In supplement to the ongoing Public Market there is a seasonal farmers' market at Granville Island. This cash-only market is steps from all the great food vendors and has been around for 30 years.
Free Orpheum Theatre Tour – Orpheum Theatre
Event dates: July 12-September 30 | Time: 11am
Behind the scenes tour of iconic Orpheum Theatre Tuesday, Thursday and Saturday. Reservations recommended.
Picasso: The Artist and His Muses – Vancouver Art Gallery
Event dates: June 11-October 2
Over 60 classics from Spanish artist Pablo Picasso. The pieces, which include works such as "Claude et Paloma" and "Femme au chapeau" will form part of Picasso: The Artist and his Muses.
Main St. Station Farmer's Market – 1100 Station Street
Event dates: June 1-October 5 | Time: 2pm-6pm
See, taste, and indulge at this bustling weekday market. With vendors lined up on the east side of Thornton Park on the sidewalk along Station Street, the Main Street Station Farmer's Market is within ideal reach on foot for bus and Skytrain users.
Richmond Night Market – near Bridgeport Station of Canada Line
Event dates: May 15-October 12 | Various times
Friday and Saturday (7pm-midnight), Sunday and stat holidays (7pm-11pm) The largest night market in North America since 2000.
West End Farmer's Market – Comox Street (between Bute and Thurlow)
Event dates: May 28-October 22 | 9am-2pm
The West End's charming, community-minded farmer's market is open Saturdays. Grab a coffee, peek at the adjacent community garden and stock up on a vast array of locally grown foods.
Yaletown Farmer's Market – 1200 Mainland Street
Event dates: May 5-October 27
A very urban market indeed. The pedestrian-friendly streets of Yaletown welcome vendors and farmers Thursday afternoons and evenings for a terrific food and shopping experience, right at the Yaletown-Roundhouse Canada Line station.
All Together Now – Musuem of Vancouver
Event dates: June 20-Jan 8 | Various times
Check out the Museum of Vancouver's latest exhibition of the weird and wonderful stuff collected by the residents of Vancouver, including artistic taxidermy, artificial eyeballs and antique corsets.
Connect with us on Facebook, Twitter and Instagram to stay in the loop with everything going on at the Hotel and around Vancouver!