EVO Summer Cinema – Schedule and What to Bring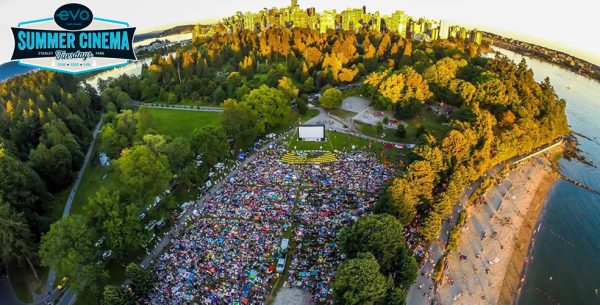 Evo Summer Cinema Series are making their way back to Vancouver! The annual outdoor movies in the park will take place at Second Beach in Stanley Park every Tuesday from July 4th to August 25th.
The weekly event, which typically brings in over 5,000 people per screening, will transform the park into an outdoor cinema featuring a four-storey inflatable movie screen.
Given the popularity of the event, it is highly recommended that you arrive early as it's a first-come-first-serve seating arrangement on the grass. In this case, being the early bird will score you great seats but also give you the opportunity to participate in games, activities, contests and stock up on movie snacks from participating food trucks. The movies are set to start at dusk so you may want to lookup sunset times to get a better idea of when to arrive.
Not a fan of sitting on the grass? Looking to guarantee your spot at the outdoor theater? For $21, you can reserve one of the 100 front-row, reserved Adirondack cottage-style seats reserved in the TOPSHOP TOPMAN Gold Circle VIP Seating Zone. In addition to VIP seating, you can book a "Dinner & a Movie" package which features a dinner at a local restaurant and a reserved seat at the park
What you should bring:
Blanket(s) – one for the floor and one to wrap yourself in in-case you get cold
Warm clothes – as mentioned above, it could get chilly… so be prepared
Insect repellent – You can never be too prepared!
Lawn chairs – Only if you plan on sitting on the outskirts
A bike – take advantage of the beautiful scenery Stanley Park has to offer before you make your way over to the show. There will even be a bike valet to securely store your bike while you enjoy the flick.
What you shouldn't bring:
Cigarettes – this is a family environment and cigarettes are banned in all Vancouver parks
Alcohol – Yes, we know it's nice to have a drink or two while enjoying a movie but it is a family event and you should be respectful to those around you
Garbage – We don't expect you to bring garbage with you but if you do decide to bring snacks and drinks, make sure to throw the trash out and recycle the bottles/cans
Featured Movies:
July 4 – The LEGO Batman Movie
July 11 – The Goonies
July 18 – Toy Story
July 25 – National Lampoon's Vacation
August 1 – Beauty and the Beast – Sing-A-Long
August 8 – JAWS
August 15 – Harry Potter and the Chamber of Secrets
August 22 – Guardians of the Galaxy Vol. 2
Event Details:
When: Every Tuesday – July 7 to August 25
Where: Ceperley Meadows (Second Beach), Stanley Park
Time: Dusk
Cost: Free or $20 for VIP seating
Connect with us on Facebook, Twitter and Instagram to stay in the loop with everything going on at the Hotel and around Vancouver!