Events and Entertainment Around Town – July Edition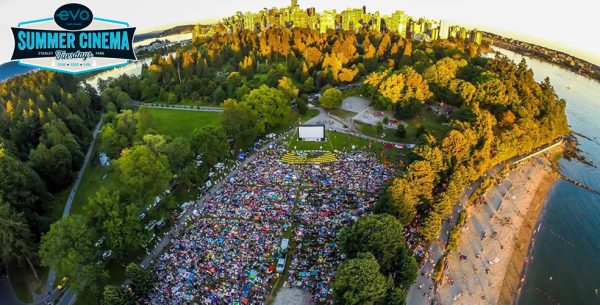 Oh Canada! On Friday, July 1st the streets of Vancouver will be flooded with hundreds of thousands of proud Canadians, all decked out in their reds and whites, celebrating our beautiful country's 149th birthday! But it doesn't stop there! There will be no shortage of activities this month, what with the International Jazz Festival, street parties, musicals, theatre, farmer's markets and yes, OUTDOOR MOVIES. Get out there!
Canada Day Celebrations  – Canada Place
Event date: July 1 | Time 10am-1030pm
This award-winning event, presented by the Port of Vancouver, is the largest Canada Day celebration outside of the nation's capital, Ottawa. Parade starts at 7pm starting at Georgia and Broughton. Fireworks will be at 1030pm.
Dave Williamson – The Comedy Mixx
Event dates: June 30-July 2 | Various times
Dave is a story-teller who often calls on his childhood, his colourful college career at Auburn, and his continuing voyage into being a young father and husband for material.
Vancouver International Jazz Festival – Various Downtown locations
Event dates: June 24-July 3 | Various times
Boasting 1,800 artists, 300 concerts and 35 venues, BC's largest music festival has a show for everyone.
DCX World Tour MMXVI – Rogers Arena
Event date: July 7 | Time: 7pm
The Dixie Chicks!
Kevin Banner – The Comedy Mixx
Event dates: July 7-9 | Various times
Winner of Bite TV's "Stand Up and Bite Me People's Champ" title in 2011, Banner has quickly established himself as a rising talent in Canadian comedy, performing with such notable comedians as Mick Foley and Norm MacDonald.
The Flats Block Party – Eastside and South Main
Event date: July 9 | Time: 1pm-5pm
Renowned local galleries Monte Clark Gallery, Winsor Gallery, Gallery Jones, Macaulay and Co, and Gallery 295 will play host to crowds of local collectors and art-gers as exhibitions are launched, artist talks are given, bands play and the city is brought together to celebrate the district's success as a cultural cornerstone.
Khatsalano Street Party – W. 4th Avenue (Burrard to MacDonald)
Event date: July 9 | Time: 11am-9pm
Vancouver's largest free music and arts festival.
Vancouver Whitecaps vs Colorado Rapids – BC Place
Event date: July 9 | Time 7pm
Billy Elliot – Stanley Industrial Alliance Stage
Event date: May 12-July 10 | Various time
The electrifying musical with unstoppable feeling – so exhilirating that at times you feel like leaping!
Carnaval del Sol – Concord Pacific Place
Event dates: July 9-10 | Various times
Music and art is a lifestyle. Carnaval del Sol presents three hundred artists that will bring you Latin American music, dances and performers that will place your soul in Latin America. Get to know the passion of native dances, the magical sounds of salsa, bachata, samba, mariachis and more.
Newsies – Queen Elizabeth Theatre
Event dates: July 5-10 | Time: Various
Part of the Broadway Across Canada series. They delivered the papers, until they made the headlines. Direct from Broadway comes Newsies, the smash-hit, crowd-pleasing new musical from Disney. Winner of the 2012 Tony Award for Best Score and Best Choreography, Newsies has audiences and critics alike calling it "A musical worth singing about!"
HUB Bike Rodeo – 800 Granville Street
Event date: July 13 | Time: 11am-4pm
Interactive cycling event highlighted by an urban obstacle course where cyclists can test their mettle. Bring your own bike or use one of the loaners and learn about safe biking in the city.
Vancouver Whitecaps vs Real Salt Lake – BC Place
Event date: July 13 | Time: 730pm
Swing dancing on Granville Street – 700 Granville St
Event date: July 14 | Time: 1pm-4pm
For all ages. Learn how to swing dance. Dance to a live swing band in downtown Vancouver.
Vancouver Whitecaps vs Orlando City SC – BC Place
Event date: July 16 | Time: 7pm
Chris Gordon – The Comedy Mixx
Event dates: July 14-16 | Various times
In his first year of comedy, Chris hit the airwaves nationally, as he was selected as the "#1 Pick in the Country" on CBC's "So You Think You're Funny?" Chris Gordon's originality continues to make an impact: from his break out performances at the Just for Laughs Festivals in Montreal and Toronto; the Seattle International Comedy Competition; Vancouver's NorthWest Comedy Festival; being featured in the Toronto showcase of NBC's Last Comic Standing; and at The Comedy Death Ray Show in Los Angeles; his appeal is undeniable.
Vancouver Folk Music Festival – Jericho Beach
Event dates: July 15-17 | Various times
60+ acts from 18+ countries on 7 beach front stages!
Five Hole for Food Street Hockey – Granville Street
Event date: July 20 | Time: 10am-7pm
Five Hole for Food Street Hockey brings together hockey fans, hockey players, media, VIPs and hockey enthusiasts in street ball hockey games on Granville Street, raising the profile and donations for the Greater Vancouver Food Bank.
Adele – Rogers Arena
Event dates: July 20-21
Skate Free Competition – 800 Granville Street
Event date: July 21 | Time: 12pm-5pm
The annual friendly skateboard competition invites skateboarders to test their skills on the skate obstacles created by local skate shops.
Steve Martin and Martin Short – Queen Elizabeth Theatre
Event date: July 22 | Time: 8pm
Kyle Bottom – The Comedy Mixx
Event dates: July 21-23 | Various times
A regular at his home club, Kyle has appeared at the Vancouver International Comedy Festival, on XM Sirius Satellite Radio, was twice featured on the TV Show "Talent Time" and has performed all over the world…of warcraft.
Tragically Hip: Man Machine Poem Tour – Rogers Arena
Event date: July 24 | Time: 7pm
Vancouver Summer Market – Jack Poole Plaza
Event dates: July 21-24 | Various times
View the 60+ artists taking part in this annual event.
Caribbean Days Festival – North Vancouver
Event dates: July 23-24 | Various times
This is a weekend of tropical rhythm, cuisine, carnival and cultures as only the Caribbean can offer.
Afro-Brazilian Street Party – 700 and 800 Granville St
Event date: July 28 | Time: 11am-8pm
Experience the unique, high-energy of the Brazilian martial arts form – AXE Capoeira at the annual Afro-Brazilian Street Party on Granville Street where Brazilian percussion music and dances such as samba, afro and maculele are the highlight of the day. A full-production sambe finale featuring authentic Afro-Brazilian costumes concludes the day.
Rock of Ages – Granville Island Theatre
Event dates: June 16-July 30 | Various times
The totally rad musical tribute to the 80s.
Celebration of Light – English Bay
Event dates: July 23-July 30 | Time: 10pm
Annual fireworks display at the beach! Featuring: Netherlands (July 23), Australia (July 27) and USA (July 30)
Powell Street Festival 2016 (40th anniversary) – Powell Street
Event dates: July 30-31 | Various times
Vancouver's annual celebration of Japanese Canadian culture.
Sunday Afternoon Salsa – Robson Square
Event dates: July 3-August 7 | Time: 3pm onwards
For nine Sundays, every week from July 3 to August 8, join in the Salsa fun with daily half-hour lessons at 3pm, performances at 5pm and casual dancing all day long.
Musical Nooners (Mon-Fri) – Hamilton Street (between Georgia and Robson Streets)
Event dates: July 8-August 19  | Time: 12pm-1pm
The sounds of summer are here as CBC Musical Nooners return for their seventh year! These free, live music concerts will be happening every weekday on the CBC Vancouver outdoor stage on Hamilton Street (between West Georgia and Robson)
Theatre Under the Stars – Malkin Bowl at Stanley Park
Event dates: July 6-August 20 | Time: 930pm
This year's features are West Side Story and Beauty and the Beast.
EVO Summer Cinema Series – Second Beach Stanley Park at Ceperley Meadows
Event dates: July 5-August 23 | Time: Sunset
Every Tuesday: July 5 – The Outsiders, July 12 – Napolean Dynamite, July 19 – The Little Mermaid, July 26 – Rocky Horror Picture Show for Pride Week, August 2 – Space Jam, August 9 – Labyrinth, August 16 – Purple Rain, August 23 – Dirty Dancing.
Thursday Enchanted Evenings – Dr Sun Yat Sen Gardens
Event dates: June 30-August 25 | Tim: 8pm-930pm
Enchanted Evenings Concert Series will turn the Dr. Sun Yat-Sen Classical Chinese Garden into a live stage for fiery trumpets and spacious flutes, mainstream jazz and swing tunes, funky folk-jazz and classical piano tunes.
Friday Nights Summer Dance Series – Robson Square on 800 block
Event dates: June 24-September 2 | Time: 730pm-1130pm
It's back! Dance the night away for free as DanceSpot BC brings back the Robson Square Summer Dance Series. Free lessons, shows and social dancing. No partner or experience required – just show up and have some fun!
Playland at the PNE
Event dates: May 7-September 18
Summertime fun at Vancouver's premiere amusement park!
Bard on the Beach – Vanier Park
Event dates: June 3-September 24 | Various times
This year's line up are: The Merry Wives of Windsor, Romeo and Juliet, Othello and Pericles. Annual festival underneath the tents of Vanier Park.
Granville Island's Farmer's Market – Triangle Square Granville Island
Event dates: June 2-September 25 | Time: 10am-3pm
In supplement to the ongoing Public Market there is a seasonal farmers' market at Granville Island. This cash-only market is steps from all the great food vendors and has been around for 30 years.
Picasso: The Artist and His Muses – Vancouver Art Gallery
Event dates: June 11-October 2
Over 60 classics from Spanish artist Pablo Picasso. The pieces, which include works such as "Claude et Paloma" and "Femme au chapeau" will form part of Picasso: The Artist and his Muses.
Main St. Station Farmer's Market – 1100 Station Street
Event dates: June 1-October 5 | Time: 2pm-6pm
See, taste, and indulge at this bustling weekday market. With vendors lined up on the east side of Thornton Park on the sidewalk along Station Street, the Main Street Station Farmer's Market is within ideal reach on foot for bus and Skytrain users.
Richmond Night Market – near Bridgeport Station of Canada Line
Event dates: May 15-October 12 | Various times
Friday and Saturday (7pm-midnight), Sunday and stat holidays (7pm-11pm) The largest night market in North America since 2000.
West End Farmer's Market – Comox Street (between Bute and Thurlow)
Event dates: May 28-October 22 | 9am-2pm
The West End's charming, community-minded farmer's market is open Saturdays. Grab a coffee, peek at the adjacent community garden and stock up on a vast array of locally grown foods.
Yaletown Farmer's Market – 1200 Mainland Street
Event dates: May 5-October 27
A very urban market indeed. The pedestrian-friendly streets of Yaletown welcome vendors and farmers Thursday afternoons and evenings for a terrific food and shopping experience, right at the Yaletown-Roundhouse Canada Line station.
All Together Now – Musuem of Vancouver
Event dates: June 20-Jan 8 | Various times
Check out the Museum of Vancouver's latest exhibition of the weird and wonderful stuff collected by the residents of Vancouver, including artistic taxidermy, artificial eyeballs and antique corsets.
Connect with us on Facebook, Twitter and Instagram to stay in the loop with everything going on at the Hotel and around Vancouver!