Canine Spotlight: Bella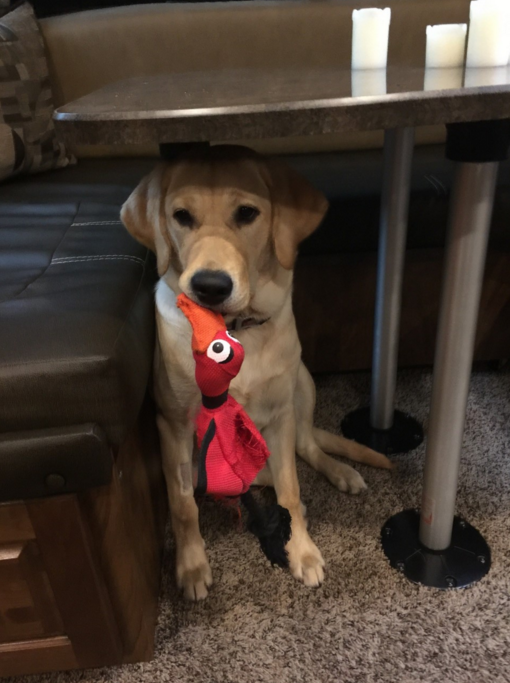 Did you know that the Pan is pet-friendly or rather, paw-friendly? We love our four-legged friends here! In fact, a lot of our staff are human parents to dogs and cats. So we're laughing a new blog series where we'll introduce some of the furry children behind our Pan associates.
Let's meet Bella, whose human is Richard Keep, Oceans 999 Restaurant Manager!
This is Bella.
I lost my last dog Kharli last September to cancer, which as any dog owner knows, leaves a big hole in your heart.
At the time, we were selling the family home and considering some other major life changes. My wife and I decided that it would be best to wait until we knew how our lives would be looking, where we were living, etc. before making that huge commitment with a new dog.
However, this wasn't how all the members of the family were thinking and before I knew what was happening, my step-daughter Bailey had convinced my wife differently and along came this little blonde crazy ball of love, who we named Bella (Italian word for beautiful).
Although at the time, I felt an element of guilt for getting a new dog so soon after Kharli had passed, I know that as a dog person, life is too short to wait and miss out on this amazing kinship and welcoming our newest member to the family was one of the best things to happen!
Book your stay and treat your canine companion to a wide selection of pet-friendly experiences at Pan Pacific Vancouver including a plush doggy bed, gourmet treats and dog friendly places guide. For more information, click here.
Connect with us on Facebook, Twitter and Instagram to stay in the loop with everything going on at the Hotel and around Vancouver!