Unceded Territories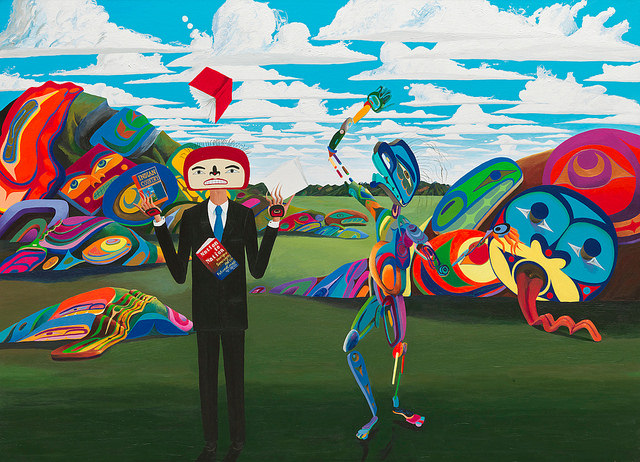 Guest post by Alexandra Nicolas, Pan Pacific Vancouver Sales Manager
« So many children died there (in the residential schools), I wanted to remember them ».
It is with these moving words that First Nations artist Lawrence Paul Yuxweluptun (LPY) started his speech during the opening of the exhibition at the Museum of Anthropology (MOA) earlier this month. Calling himself a history painter and a steward of the land he inherited from his ancestors, LPY uses his talent to advocate for the causes he cares about, from remembering the residential schools to protecting the environment. With "Unceded Territories" the MOA has gathered over sixty artworks from private and public collections spanning 30 years of artistic creation and political career. Here is a snapshot.
Remembering the past
"Unceded Territories" refers to the fact that BC mainland territory was never ceded by the government of Canada through treaties, war or surrender and as such remains the land of First Nations people. Acknowledging this situation, more and more public events in Vancouver start by stating that they take place on unceded territories with a representative of either the Musqueam, Squamish or Tsleil-Waututh band welcoming the audience in their native language. Yet not all First Nations people can speak their own language: as LPY reminded the audience he can't speak his own language due to the fact that he first went to residential school. A whole room is dedicated to this dramatic subject with the portrait of an unwavering "Residential school girl" and a white cross made of stained underwear titled "Residential school dirty laundry". Beside the fact that the children were forbidden to speak their own language and practice their spiritual belief and were subject to physical and sexual abuses, the "Truth and Reconciliation" commission indicated in its report in 2015, that out of 150,000 First Nations children who went to the Residential schools, 6,000 died there mostly due to diseases.
Protecting the future
As curator Karen Duffek explains in the publication related to the exhibition: "Art making is a strategy he uses to document the events he witnesses, to take social and ideological responsibility and to speak to the world on his own terms." LPY does not only address the issues from the past related to First Nations people, he also tackles the issues that British-Columbia is facing today, most notably related to the environment which is every single inhabitant of BC's concern; whether it's fish farms ("Fish farmers they have sea lice"), clear-cuts ("Scorched Earth, Clear-cut logging on Native Sovereign Lan. Shaman coming to fix") or pipeline ("Christy Clark and the Kinder Morgan Go-Go girls"), LPY uses his art to call on the audience to spread awareness and educate themselves. With "Red Man Watching White Man Trying To Fix Hole In The Sky" and 'Killer Whale Has A Vision And Comes To Talk To Me About Proximological Encroachments Of Civilizations In The Oceans" (the later one he painted a couple of days before the BP oil spill off the southeast coast of the USA started) shows that his commitment to the environment is for the entire planet not just for BC.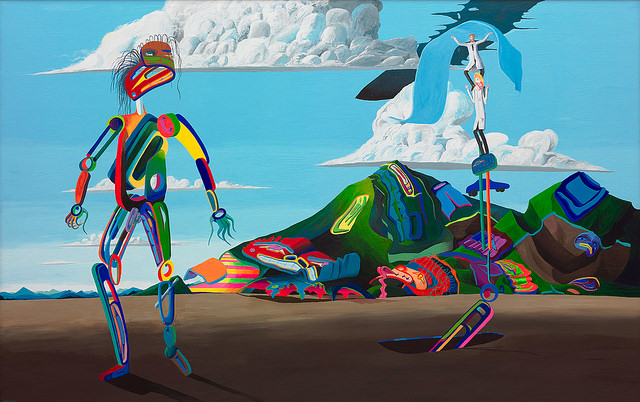 Sharing a vision
Yet, as much as LPY's paintings are his way to express his political views, they are and should be regarded as remarkable artworks worth of hanging in the most renowned contemporary art museums. Creator of the Ovoidism painting and positioning himself as a modernist, LPY says: "Somebody has to translate the world we live in from our Native perspective to a European one, and so I embarked on this modern journey. It was the only way to get a message out. And native people are going to benefit from it." With the MOA's exhibition "Unceded Territories", it is the whole artistic community and art lovers alike who can benefit from and enjoy Lawrence Paul Yuxweluptun remarkable talent.
The exhibition Unceded Territories is on display until October 16, 2016. For more information, click here.
Photo credit: Museum of Anthropology
Connect with us on Facebook, Twitter and Instagram to stay in the loop with everything going on at the Hotel and around Vancouver!