Pan Pacific Vancouver Turns 31!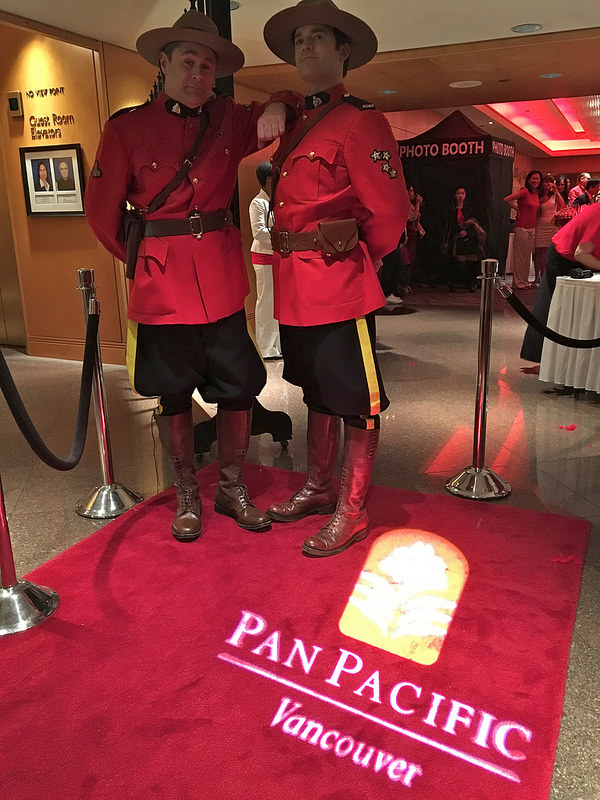 It was a double celebration at the Pan on January 13. We got to celebrate not only our 31st anniversary, but also an early Canada birthday! Over 400 staff and guests attended the event in the Crystal Pavilion ballroom and feasted on a delicious buffet dinner prepared by our culinary team, as well as, enjoyed some Canadian-themed live entertainment and awards recognition show.
The management opened the awards portion of the evening with a special thanks to our pre-opening team, celebrating 30 years at the Hotel: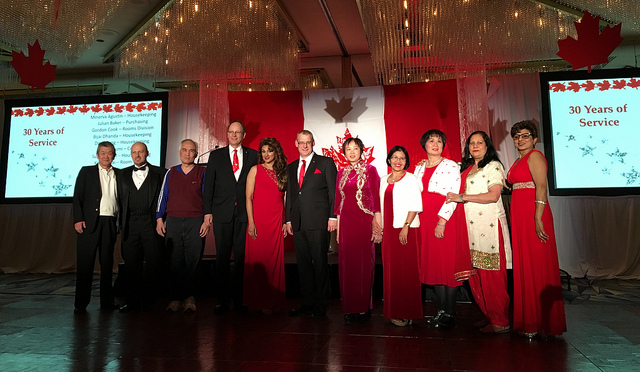 Minvera Agustin (Housekeeping), Julian Baker (Purchasing), Gordon Cook (Rooms Division), Bijai Dhanda (Housekeeping), Doris Fung (Housekeeping), Takao Izumi (Culinary), Sudesh Kajal (Housekeeping), Keshmi Lai (Room Service), Jan Lin (Housekeeping), Carolyn Mason (Front Desk), Peter Robb (Bell Services), Tom Wang (Housekeeping), and Ram Sundar (Stewarding)
We also recognized other important milestones with the Hotel. Celebrating 25 years of services are: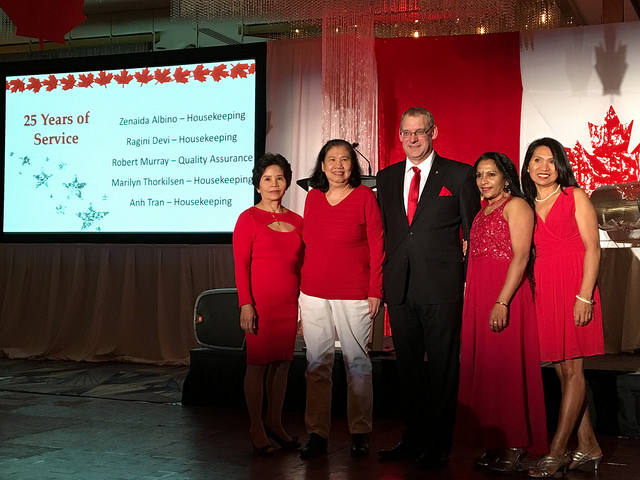 Zenaida Albino (Housekeeping), Ragini Devi (Housekeeping), Robert Murray (Quality Assurance), Marilyn Thorkilsen (Housekeeping), and Anh Tran (Housekeeping)
Celebrating 20 years of service: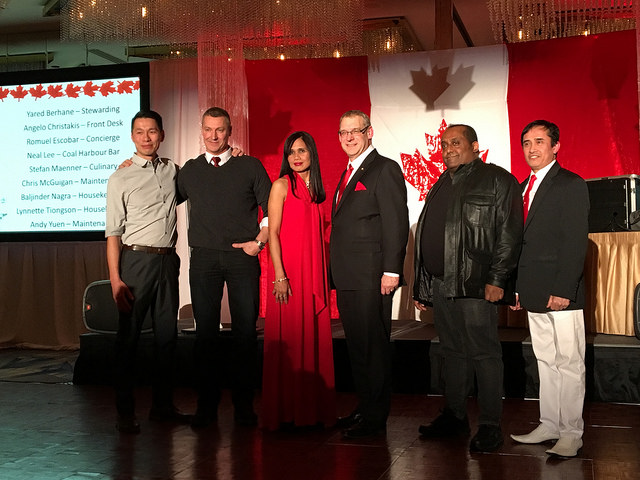 Yared Berhane (Stewarding), Angelo Christakis (Front Desk), Romuel Escobar (Concierge), Neal Lee (Coal Harbour Bar), Stefan Maenner (Culinary), Chris McGuigan (Maintenance), Baljinder Nagra (Housekeeping), Lynnette Tiongson (Housekeeping), and Andy Yuen (Maintenance)
Celebrating 15 years of service: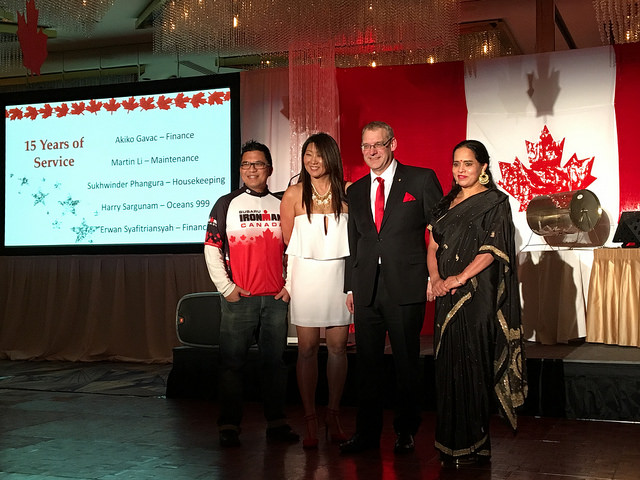 Akiko Gavac (Finance), Martin Li (Maintenance), Sukhwinder Phangura (Housekeeping), Harry Sargunam (Oceans 999), and Erwan Syafitriansyah (Finance)
Celebrating 10 years of service: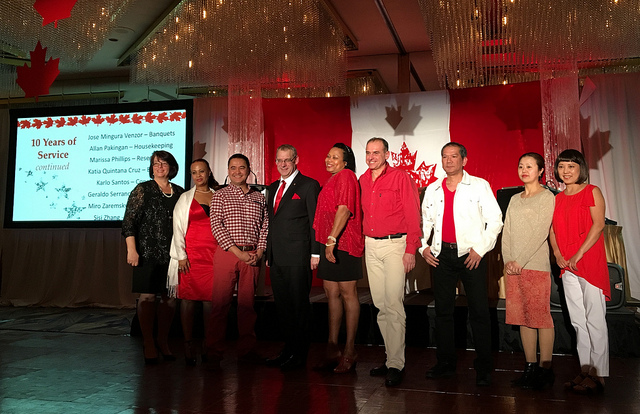 Jose Mingura Vvenzor (Banquets), Alla Pakingan (Housekeeping), Marissa Phillips (Reservations), Katia Quintana Cruz (Banquets), Karlos Santos (Concierge), Geraldo Serrano (Bell Services), Miro Zaremsky (Maintenance), and Sisi Zhang (Housekeeping)
Celebrating 5 years of service: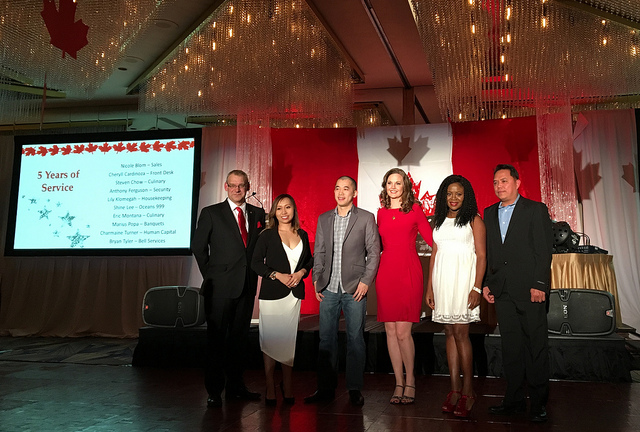 Nicola Bloom (Sales), Cheryll Cardinoza (Front Desk), Steven Chow (Culinary), Anthony Ferguson (Security), Lily Klomegah (Housekeeping), Shine Lee (Oceans 999), Eric Montana (Culinary), Marius Popa (Banquets), Charmaine Turner (Human Capital), and Bryan Tyler (Bell Services)
But it was not only the number of years of service that we wanted to celebrate. With the Pan Pacific Spirit Awards, we recognized associates that often go above and beyond the call of duty in the areas of Front of House and Heart of House. These candidates received Vancouver Tourism Award nominations, noted in guests' comment cards or recognized by Leadership in Board of Operations.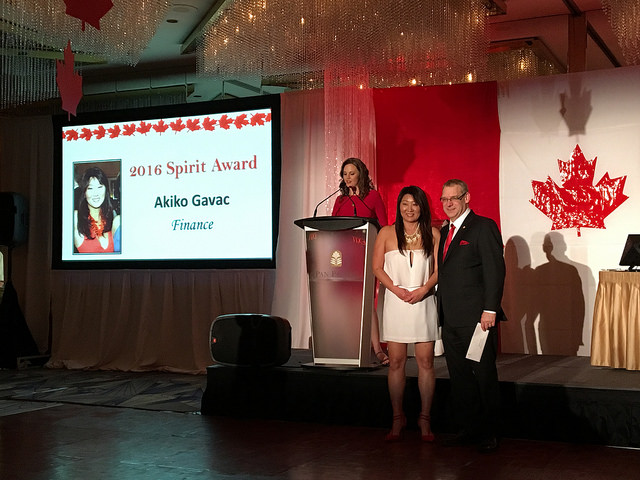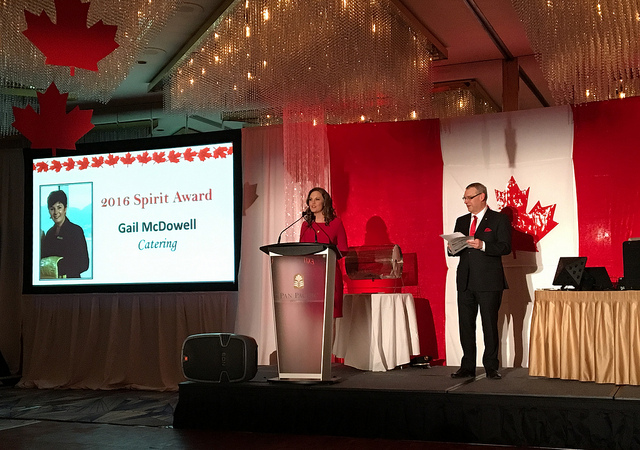 The 2016 Spirit Award winner for Heart of House went to Akiko Gavac in Finance, while Gail McDowell in Catering won for Front of House.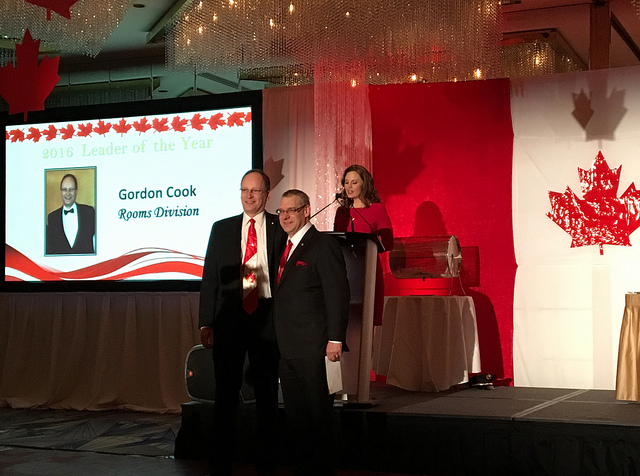 The 2016 Leader of the Year went to Gordon Cook in Rooms Division.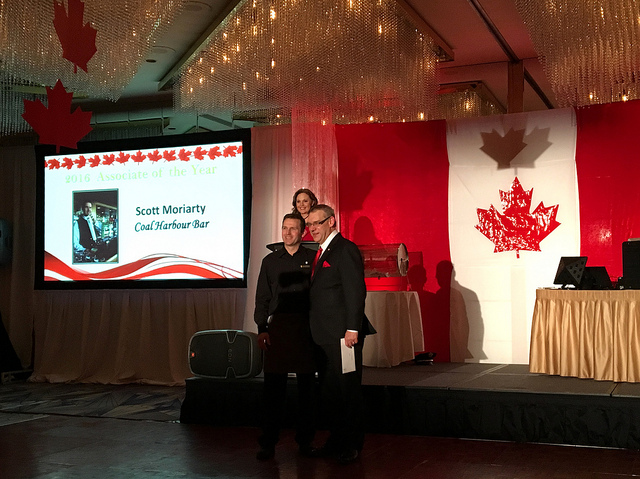 The 2016 Associate of the Year was awarded to Scott Moriarty in the Coal Harbour Bar.
Congratulations to all our associates on another successful year! For more photos, click here for our Flickr.
Connect with us on Facebook, Twitter and Instagram to stay in the loop with everything going on at the Hotel and around Vancouver!