Mother's Day Brunch at Pan Pacific Vancouver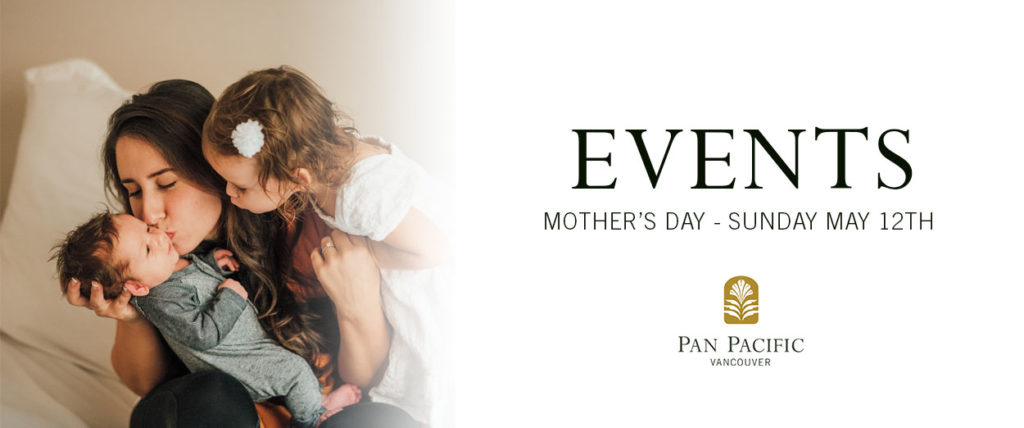 From your first steps to your first job, she was there to guide you along the way. This Mother's Day, celebrate the woman that helps you through all of life's ups and downs, by treating her to a brunch fit for a queen at Oceans 999 Restaurant.

Executive Chef Sean Murray and his team have prepared a special Mother's Day Brunch menu full of mouth-watering items that are sure to please. Come dine on Sunday, May 12th from 10:30 am to 2:30 pm, to help us celebrate mothers everywhere.
To reserve your table for May 12th, follow either of these steps:

The Details:
Date: Sunday, May 12th

Time: 10:30am – 2:30pm

Locations: Ocean 999 and Coal Harbour Bar

$99 per person; $95 Seniors; $49 Children aged 6-12

Complimentary for Children under 5

18% Service charge & applicable taxes additional
MOTHER'S DAY MENU
SALADS
Chilled Selva prawns, Napa cabbage slaw, cashew vinaigrette, toasted sesame
Asparagus, green beans, watercress, egg, bacon vinaigrette

Golden quinoa, arugula, blueberry, feta cheese, white balsamic, candied pecans

Riesling poached salmon, new potatoes, pickled mustard seeds, baby kale, charred broccolini

"Red salad", beets, oak leaf, sweet peppers, grapefruit, grenadine, goat cheese

Oven cured tomato & artichoke salad, Neufchâtel cheese & basil pesto

Spring Greens with a selection of Angelo's favourite dressings
___
CHEF'S WEST COAST SEAFOOD TACO STATION
Tuna & shrimp taco station, crushed avocado, togarashi, tomato-miso
___
SEASONAL FRESH FRUITS AND CHEESE
Sliced fresh fruits, seasonal berries
Artisan & International cheese presentation

Assorted breads, rainforest crisps & grissini

___
FROM THE BAKERY
Freshly baked assorted croissants, muffins, Danish, scones, lemon brioche

Honey, preserves & sweet butter
___

CHILLED JUICE
Freshly squeezed orange juice & organic apple juice
___
FRESH SEAFOOD BAR
Jumbo prawns, Alaskan snow crab, cocktail sauce & green goddess
___
COLD SEAFOOD
Smoked sockeye salmon, capers, red onion, lemon

Peppered mackerel, smoked trout, house-marinated wild salmon gravlax with dill mustard dressing

Charcuterie with pickled vegetables, assorted mustards
___
FROM OUR SUSHI CHEF
Nigiri sushi & sushi rolls

Traditional accompaniments
___
ASIAN DELICACIES
Vegetable samosas, tamarind dip

Pork & shrimp dumpling, BBQ pork buns, hot sauce, chili sauce
Chinese garden Asian greens, gai lan, snap peas, baby bok choy

Wok-seared mushroom chow mien noodles

Hunan fried rice

Vegetable spring rolls with plum sauce
___
CARVERY
Local coffee rubbed & lightly smoked, prime rib

Salmon wellington, artichoke & sun dried tomato duxelle, basil hollandaise
___
OMELETTES
Fillings include: field mushrooms, peppers, tomatoes, cheese, scallions, ham, shrimp & smoked salmon
___
SOUP
Spring leeks, young potato, English pea & house smoked cod soup
___
ENTREES
Mixed West Coast seafood boil, shrimp, clams, mussels, gochujang, fennel & tomato broth

Haida Gwaii halibut, morel mushrooms, snap peas, pearl onions, English pea butter

Crispy skin duck breast, blackberry honey & jalapeño

Slow cooked lamb sirloin, crispy chickpea fritters, fava bean & black olive

Mushroom ravioli, hazelnuts, tarragon pesto

Traditional Eggs Benedict

Kale & Mushroom Benedicts

Hickory smoked bacon

Country-style sausages

Baked gnocchi, ricotta & cured tomatoes, herb crust

Spring garden vegetables with honey butter & fresh herbs
___

CHILDREN'S TREATS
Chicken fingers

French fries

Mini grilled cheese sandwiches

Vegetarian flat breads

Macaroni & cheddar cheese

Mini waffles with fruit coulis & sliced fresh fruits

Vegetable crudités with assorted dips

Jell-O, mini cupcakes, double chocolate brownies, Rice Krispy squares, mini churros
___
DESSERTS
Callebaut Chocolate Fountain with fresh cut pineapple, strawberry, marshmallow, salted pretzel stick, mini pancake, rice krispy, waffle bites

Assorted Doughnut Wall

Cake pop pictures frame

Flaming Lollipops Action Station: mango & raspberry sorbet, dipped in meringue & flamed golden brown Caramel salted cheese cake, white chocolate matcha raspberry roulad, banana chocolate hazelnut cake, black forest in jars, Québecsugar tarts, cream puffs, crème brulé, raspberry mousse, chocolate cake, crème caramel, panna cotta, lemon meringue tarts, fruit tarts, French pastry
___
INCLUDES
Freshly Brewed Starbucks Coffee, T" Brand Teas or Herbal Infusions