A Taste of the Cafe Pacifica and Cascades Lounge New Fall Menus
Beginning this week, the Pan Pacific Vancouver will debut its new Fall menus from the Cafe Pacifica Restaurant and the Cascades Lounge.
For this menu, Head Chef Bob Wiles and his Kitchen Team have transitioned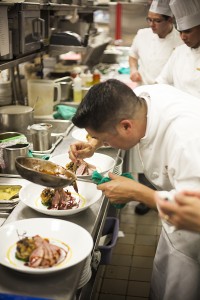 from their light & fresh Summer menus to bolder flavours and heartier portions.
Creating a new menu is never an overnight process – Chef Bob has spent countless hours researching ingredients, visiting local merchants and making sure he always provides the freshest ingredients possible for his chefs.
Here's a sneak peek at some of the items!
Ahi Tuna TarTar:
Sweet soya, yuzu pearls and puree of delectable sauces – wasabi infused avocado, citrus, Japanese pickled plum, cilantro, accomponied by togarashi crackers.

Seared Lois Lake Steelhead:
On crushed potato and Dungeness crab cake accomponied by garlic scented rapini & red wine butter sauce.

Roasted Golden Beet & Baby Vegetable Salad:
Mixed winter greens, goat cheese crostini and toasted pumpkin seed.

Braised Oxtail Ragout with Egg Noodle Fettuccini:
Pearl onions, cherry tomatoes, Swiss chard & shimiji mushrooms, served with freshly grated horseradish mousse.

Braised Milk Fed Veal Cheeks:
Spätzle, red cabbage & wild mushrooms in a red wine infused sauce.

Pan Seared Duck Breast:
Duck confit muffin, blood orange reduction, balsamic glazed cherry tomatoes.

Download the Cafe Pacifica Fall 2012 Menu.