Events and Entertainment Around Town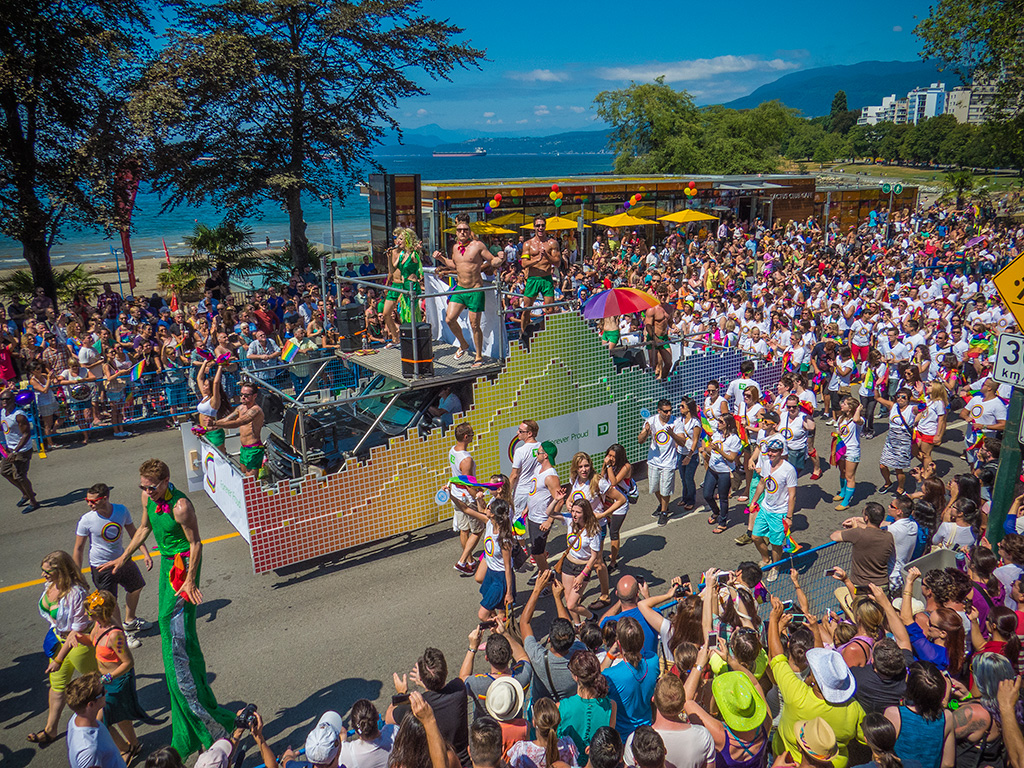 Source: Vancouver Pride Society
New to Vancouver and wondering what to do? Or maybe you want to entertain some out of town folks? Or maybe you're a local looking for staycation ideas? Well, look no further. We've put together a handy list of all the upcoming events and entertainment in town. So get on out there!
37th Vancouver Pride Parade – Robson and Thurlow Streets (starting point)
Event date: August 2 | Time: 12pm-3pm
Attracting crowds of more than 650,000, the Pride Parade is renowned on the international stage as one of the largest and most successful LGBTQ events in the world.
Richmond Night Market – 8351 River Road, Richmond (near Bridgeport skytrain station)
Event dates: May 15-October 12 | Time: 7pm
Monday Outdoor Zumba – Canada Place North
Event dates: July 7-August 31 | Time: 530pm
Get fit and have fun at this outdoor Latin inspired fitness class. Dance experience not required.  (classes will be cancelled in case of rain).
Chinatown Festival 2015 – Columbia at Keefer Street
Event dates: August 8-9
Last year, 57,000 festival goers converged in historic Chinatown to experience the biggest multicultural summer celebration in town. Festivals include: day market, 'Historical + Food Tasting Walking Tour', kids corner, multicultural stage performances, cultural corner, TD Youth Talent Showdown, Young Star Challenge and a streetfest.
Saturday West End Farmer's Market – Comox Street  (between Thurlow and Bute)
Event dates: May 30-October 24
Pop by every Saturdays for this  popular summer neighbourhood event!
Weekdays Musical Nooners – Hamilton Street (between Georgia and Robson)
Event dates: July 3-August 21 | Time: 12pm-1pm
The sounds of summer are here. The CBC Musical Nooners return for their sixth year! These free, live music concerts will be happening every weekday.
Annual Water Fight – Lumbermanes Arch in Stanley Park
Event date: August 8 | Time: 1pm
The annual event that draws hundreds of people to the largest water fight in the city.
Wednesday Main St. Farmer's Market – Near Main St. Skytrain Station
Event dates: June 3-October 7 | Time: 2pm-8pm
Located at the bustling commuter intersection at Main and terminal, Main Street Station market returns for its 6th season this year. Every Wednesdays.
Theatre Under the Stars – Malkin Bowl Stanley Park
Event dates: July 10-August 22 | Time: 8pm
Hairspray will be playing all even numbered dates, while Oliver will be playing all odd numbered dates.
Free Outdoor Thursday Night Movies at Canada Place – North Point of Canada Place
Event dates: July 9-August 27 | Time: Sunset
Upcoming movies include: The Proposal, Back to the Future Part II, Dumb and Dumber, The Hunger Games: Catching Fire.
Plaza of Nations Saturday Concerts – Plaza of Nations
Event dates: June 20-September 9 | Time: 5pm-7pm
A brand new concert series at the Plaza of Nations.
Plaza of Nations Saturday Night Market – Plaza of Nations
Event dates: June 6-September 9 | Time: 5pm-10pm
Plaza of Nations will be transformed into an outdoor marketplace, complete with food trucks, craft beer and local bands. The venue will have an outdoor beer garden showcasing local craft beer, wine and ciders.
Powell Street Festival – Power Street area
Event dates: July 31-August 2
Hosted by the Powell Street Festival Society, this event celebrates Japanese Canadian arts and culture since 1977. Now in its 39th year!
Friday Night Robson Square Dance Series – Robson Square
Event dates: July 5-August 30 | Time: 730pm-1130pm
Free lessons, shows and social dancing under the dome of Robson Square. Every Friday.
Sunday Afternoon Salsa – Robson Square
Event dates: July 5-August 30
Free lessons and performances. The Robson Square salsa dances are open to everyone. No dance experience required.
Free Outdoor Tuesday Night Movies in Stanley Park – Second Beach
Event dates: July 7-August 25 | Time: Sunset
Upcoming movies include Top Gun, Harry Potter and the Philosopher's Stone, Jurassic Park and Avengers: Age of Ultron.
North Vancouver's Shipyard Night Market – Shipbuilders Square, 138 Victory Ship Way
Event dates: May 1-September 25
Head to North Vancouver Friday nights for a vibrant gathering focused on local artisans, bakers, farmers and vendors. There will be plenty of food trucks, live music and beer garden.
Squamish Valley Music Festival 2015 – Squamish
Event dates: August 7-9
This year's festival will be headlined by Mumford and Sons, Drake and Sam Smith.
Les Misérables – Stanley Industrial Alliance Stage
Event dates: July 2-August 16 | Time: Various
This spectacular musical of love and redemption has swept the world with goosebump-raising songs such as "I Dreamed a Dream", "Bring Him Home", "On My Own" and the rousing "Do You Hear the People Sing?"
8th Annual Sculpture Exhibition – Van Dusen Botanical Garden
Event date: July 30-August 3 | Time: 10am-8pm
Presented by the Sculptor's Society of British Columbia.
Of Heaven and Earth: 500 Years of Italian Painting – Vancouver Art Gallery
Event dates: Jun 6-October 4 | Time: 10am-5pm
With works by some of the greatest names in European art, Of Heave and Earth examines the thematic and stylistic developments in Italian art – from the religious paintings of the late Middle Ages and Renaissance to the secular neoclassical and genre paintings of the 19th century. The exhibition showcases works by Giovanni Bellini, Sandro Botticelli, Domenichino, Francesco Guardi, Titian and more.
Bard on the Beach 2015 – Vanier Park Tents
Event dates: June 4-September 26 | Time: Various
Presenting this year: The Comedy of Errors, King Lear, Shakespeare's Rebel and Love's Labour's Lost.
Thursday Yaletown Farmer's Market – 1200 Mainland Street, Yaletown
Event dates: May 7-October 29 | 2pm-6pm
Nestled in the heart of Vancouver's historic Yaletown district, this farmer's market has all the bustle and appearance of a European-style marketplace.
Connect with us on Facebook, Twitter and Instagram to stay in the loop with everything going on at the Hotel and around Vancouver!