Events and Entertainment Around Town – May Edition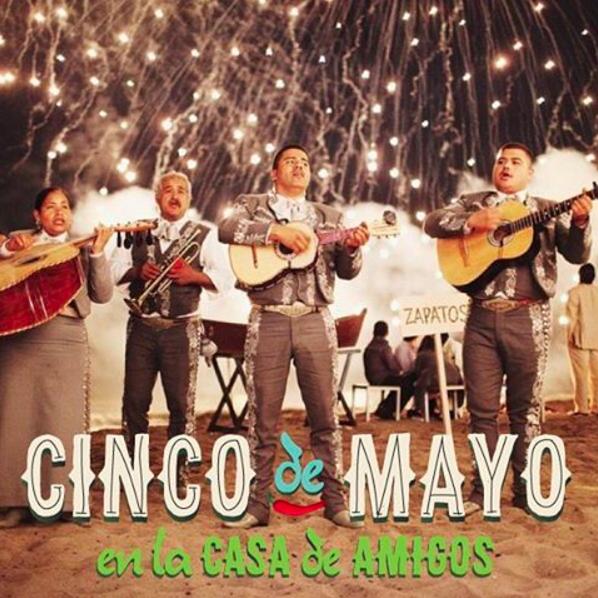 Source: Casa de Amigos
So many reasons to get out this month. There's the festive Cinco de Mayo celebrations at Robson Square, cheering on of the Whitecaps, riding all the heart-pounding, thrill-seeking rides at Playland your stomach can handle, and of course, celebrating the most special lady in your life – your mom! For the details for all this and more events, read on!
Eat Vancouver – BC Place
Event dates: April 29-May 1
Canada's largest celebration of food and drink.
Faust Plays Dvorak – Orpheum Theatre
Event dates: April 30-May 2 | Times: 2pm and 8pm
Internationally-renowned violinist Isabelle Faust performs Bartok's scintillating Violin Concerto No. 2, on the extraordinary "Sleeping Beauty" Stradivarious violin, made in 1704. Beloved Conductor Laureate and former VSO Music Director Kazuyoshi Akiyama returns, conducting Dvorak's Seventh Symphony and the overture of Mozart's Opera, Don Giovanni.
The Jungle Book – Waterfront Theatre at Granville Island
Event dates: April 16-May 5 | Various times
A powerful coming-of-age tale. Deep in the Indian jungle, the human Mowgli is raised by wolves. Tutored by Baloo the bear, Bagheera the panther, and Akela the wolf, Mowgli learns the codes and traditions of the hunter community. When Shere Khan's prejudice pits the tiger against the young man-cub, Mowgli finds the courage to stand up for himself.
Classics of Dance – Orpheum Theatre
Event date: May 5 | Time: 2pm
The world of dance has inspired many famous classical masterworks, and this concert presents some of the best, including works by Brahms, Strauss, Tchaikovsky and more.
The Valley – Granville Island Theatre
Event dates: April 7-May 7 | Various times
A teenage boy's arrest on a Skytrain platform is the catalyst for this topical story about the contradictory attempts to balance care and public safety.
Broadway Rocks – Orpheum Theatre
Event dates: May 6-7 | Time: 8pm
Feel the energy and thrills of the Great White Way on the Orpheum stage, as the VSO conductor Steven Reineke and three of Broadway's brightest stars lead you on a rockin' Broadway revue. Hear music from Dreamgirls, Phantom of the Opera, Hairspray, Chess, Mamma Mia, The Lion King, Jersey Boys and more Broadway favourites.
Cinco de Mayo at Robson Square (age 19+)
Event date: May 7 | Time 4pm-10pm
This vibrant Cinco de Mayo celebration will fill the Casa de Amigos with delicious food, delightful drinks, music, culture and more. Hit the square and experience authentic street vendors andcrafters, pinatas, mariachi bands, traditional dancers, before getting ringside for a wrestling match with high-flying luchador wrestlers.
Vancouver Whitecaps vs Portland Timbers – BC Place
Event date: May 7 | 2pm
Evita – Queen Elizabeth Theatre
Event dates: April 30-May 8 | Times: 2pm and 730pm
Winner of 7 Tony Awards including Best Musical, Evita is the story of the charismatic and controversial Eva Peron, whose beauty and ambition vaulted her from poverty to power as the First Lady of Argentina.
Al Simmons: Symphonic Shenanigans – Orpheum Theatre
Event date: May 8 | Time: 2pm
JUNO Award-winner Al Simmons is a creative genius whose highly original performances of profound wackiness and of off-the-wall inventions have taken the arts of music and comedy to unparalleled heights of hilarity.
James Ehnes in Recital – Orpheum Theatre
Event dates: May 9 | Time: 8pm
One of Canada's greatest classical artists, and one of the world's top violinists, James Ehnes performs in recital as part of his fortieth birthday recital tour. Hear this exceptional artist unplugged and on the Orpheum stage in a solo performance that includes a work written for James by Maestro Bramwell Tovey.
Vancouver Whitecaps vs Chicago Fire – BC Place
Event date: May 11 | Time: 2pm
Shine – Time Music Olympics – Vancouver Playhouse
Event date: May 13 | Times: 10am and 1130am
I can Sing! I can play! Celebrate the music of many lands, through the marimaba, timpani and other fun percussion instruments.
Bel Gleib – The Comedy Mixx
Event dates: May 12-14 | Various times
Host of 'Idiotest' on Game Show Netowrk and for the last 7 years, was of the stars of Chelsey Lately.
Program 3 – Queen Elizabeth Theatre
Event date: May 12-14 | Time: 8pm
A ROOM – Emily Molnar, Ballet BC's Artistic Director, has created a dynamic world for 16 dancers set to a driving musical landscape by German composer Dirk Haubrich. BILL – Ballet BC is thrilled to work with Tel Aviv based Sharon Eyal, one of the hottest choreographers today. I and I AM YOU – Finnish-born choreographer Jorma Elo's 2011 debut with Ballet BC was met with thunderous applause.
Selena Gomez – Rogers Arena
Event date: May 14| Time: 730pm
Tori Kelly – Queen Elizabeth Theatre
Event date: May 15 | Time: 8pm
Joyce Yang Plays Mozart – Orpheum Theatre
Event dates: May 14-16 | Time: 8pm
Virtuoso poet of the keyboard, JOyce Yang performs one of Mozart's most important piano concertos, and one of his greatest works overall, a concerto that greatly influenced Beethoven and foreshadowed the Romantic ea of composition to come. Moz-Art a la Haydn is a smart, cheeky styling of Mozart's lost pantomine music of 1783 – the a la Haydn part is a nod to Haydn's Farewell Symphony, so don't be surprised when musicians start leaving the stage as the piece comes to an end!
Stars on Ice – Rogers Arena
Event date: May 19 | Time: 7pm
Hedley Hello World Tour – Rogers Arena
Event date: May 20 | Time: 7pm
The Piano Guys – Queen Elizabeth Theatre
Event date: May 20 | Time: 8pm
The Piano Guys are an American musical group consisting of Jon Schmidt, Steven Sharp Nelson, Paul Anderson, and Al van der Beek. They gained popularity through YouTube, where they posted piano and cello renditions of popular songs and classical music.
Ivan Decker – The Comedy Mixx
Event dates: May 19-21 | Various times
Since his start in comedy in a dusty broken down bar in East Vancouver, Ivan Decker has quickly become one of the most enjoyable comedians in the country.
Nicola Benedetti and Dale Barltrop – Chan Centre for the Performing Arts
Event dates: May 20-21 | Time: 8pm
Outstanding VSO Concertmaster Dale Barltrop leads from the violin, in a concert that features one of the most exciting violinists on the concert scene today, Nicola Benedetti. Ms. Benedetti is an artist of astonishing depth and musicality, and constantly dazzles critics and audiences a like wherever she performs. You will hear Mozart's most famous violini concert, and Shostakovich's Chamber Symphony, Rudolf Barshai's arrangement of the composer's String Quartet No. 3.
Comedy Bang! Bang! Live – Vogue Theatre
Event date: May 26 | 9pm
Scott Aukerman's Comedy Bang! Bang! is a popular podcast and tv show. This special live performance features Scott and guests Paul F. Tompkins and Lauren Iapkus doing an improvised program, with plenty of character drop-ins.
Paul Simon – Queen Elizabeth Theatre
Event date: May 26 | Time: 8pm
American musician, singer-songwriter and actor. Simon's fame, influence, and commercial success began as part of the duo Simon and Garfunkel, formed in 1964 with musical partner Art Garfunkel.
A Tchaikovsky Celebration – Orpheum Theatre
Event date: May 28 | Time: 8pm
Maestro Bramwell Tovey conducts an all-Tchaikovsky program featuring the remarkable, powerful and emotional Pathetique Symphony, an ode of the power of fate, with its beautiful spine-tingling ending that fades away into a sublime nothingness. Brilliant cellist Johannes Moser performs the Rococo Variations for cello and orchestra and the concert begins with the Polonaise from Tchaikovsky's opera, Eugene Onegin.
Vancouver Whitecaps vs Houston Dynamo – BC Place
Event date: May 28 | Time: 3pm
Improv After Dark – The Improv Centre
Event dates: May 1-28 | Time: 1115pm
Things heat up with Vancouver TheatreSports League's Improv After Dark. This edgy show is 60 minutes of non-stop, fast-paced no-holds-barred comedy for grown-ups.
Mark Normand – The Comedy Mixx
Event dates: May 26-28 | Various times
Appearances on Inside Amy Schumer, Conan and will be appearing on the upcoming season of This Is Not Happening on Comedy Central.
2016 European Festival – Swangard Stadium
Event dates: May 28-29 | Various times
Learn about Canada's European heritage. You won't want to miss out on this exciting weekend of cultural and culinary delights and rich entertainment.
BC Buds Spring Arts Festival – Firehall Arts Centre
Event dates: May 1-31 | Various times
The 12th annual festival of inventive, original site-specific works and new play readings by BC artists in and around the Firehall's heritage building. Showcasing the exciting and innovative, BC Buds provides a platform for genre bending and multi disciplinary emerging and established artists.
Vancouver International Children's Festival – Granville Island
Event dates: May 30-June 5 | Various times
Mashup: The Birth of Modern Culture – Vancouver Art Gallery
Event dates: February 20-June 12
The biggest exhibition in the history of the Vancouver Art Gallery! Occupying 35,000 square feet of exhibition space on all floors and featuring more than 371 artworks by 156 artists!
10th Music on Main – Various venues on South Main
Event dates: October 6-June 14 | Various times
At a Music on Main concert, there's always great musicians and interesting, engaging music.
Billy Elliot – Stanley Industrial Alliance Stage
Event date: May 12-July 10 | Various time
The electrifying musical with unstoppable feeling – so exhilirating that at times you feel like leaping!
Playland at the PNE
Event dates: May 7-September 18
Summertime fun at Vancouver's premiere amusement park!
Richmond Night Market – near Bridgeport Station of Canada Line
Event dates: May 15-October 12 | Various times
Friday and Saturday (7pm-midnight), Sunday and stat holidays (7pm-11pm) The largest night market in North America since 2000.
West End Farmer's Market – Comox Street (between Bute and Thurlow)
Event dates: May 28-October 22 | 9am-2pm
The West End's charming, community-minded farmer's market is open Saturdays. Grab a coffee, peek at the adjacent community garden and stock up on a vast array of locally grown foods.
Yaletown Farmer's Market – 1200 Mainland Street
Event dates: May 5-October 27
A very urban market indeed. The pedestrian-friendly streets of Yaletown welcome vendors and farmers Thursday afternoons and evenings for a terrific food and shopping experience, right at the Yaletown-Roundhouse Canada Line station.
Connect with us on Facebook, Twitter and Instagram to stay in the loop with everything going on at the Hotel and around Vancouver!