Events and Entertainment Around Town – January Edition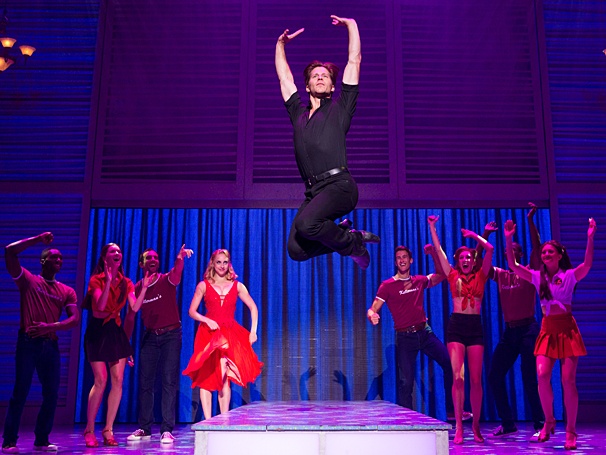 Source: Broadway in Vancouver
Happy New Year!
We hope everyone had a wonderful holiday season!  It's 2016 and there are plenty of events to start the year off.  So if you're in recovery mode, let's ease into this slowly. But if you're raring to go, (because there's so many great upcoming events!), we curated the very best this city has to offer this month. Let's do this!
29th Festival of Trees – Four Seasons Hotel
Event dates: November 13-January 5
For the past 29 years, the lobby of the Four Seasons Hotel Vancouver has been transformed into a forest of beautifully decorated trees, all in support of BC Children's Hospital.
Lights of Hope – St Paul's Hospital
Event dates: November 19-January 4
An annual fundraising campaign to support St Paul's Hospital. This spectacular display features more than 200 shining stars and 10km of twinkling lights all built by volunteers using donated materials.
Holidays at Vancouver Aquarium – Vancouver Aquarium
Event dates: November 26-January 4
Home to everyone's favourite holiday guest: Scuba Claus! Come marvel at the holiday tree, its glimmering lights powered by the resident electric eel. Learn more about the North Pole and Arctic waters through snowy displays and festive programming.
Canyon Lights at Capilano Suspension Bridge – Capilano Suspension Bridge
Event dates: November 27-January 3
The suspension bridge, Treetops Adventure, Cliffwalk, the rainforest and canyon are transformed into a world of festive lights and visual enchantment.
Christmas at Flyover Canada – Canada Place
Event dates: December 10-January 5 | Time: 10am-9pm
Christmas hours: 10am-6pm December 24. Closed December 25
FlyOver Canada will transform into a magical winter wonderland this Christmas season. Guests will help Santa search for his missing elves during an exhilarating flight across Canada and on to the North Pole.
Chelsea Hotel: The Songs of Leonard Cohen – Firehall Arts
Event dates: December 15-January 9
A special holiday run of the Firehall's smash hit musical! Leonard Cohen's powerful and inspirational music is the heartbeat of Chelsea Hotel: The Songs of Leonard Cohen, as six performers play seventeen different instruments in a rollicking tribute to the remarkable writer.
Rivals – Blackbird Theatre 1945 McLean Drive
Event dates: December 28-January 23
A comedy of love and manners revolving around the bookishly romantic Lydia Languise who adores her lover when she think he is a poor ensign, but is appalled when he turns out to be a well-connected Captain. Adding to this, Lydia finds herself beset on all sides by eccentrics, bumbling suitors and stymied by an overbearing aunt.
Erica Sigurdson – The Comedy Mixx
Event dates: January 7-9 | Various times
Based in Vancouver, erica Sigurdson is a strong dominating force in the Canadian Comedy scene, as well as, an award-winning writer. Her comedy festival credits include Montreal Just For Laughs, Winnipeg, Halifax, St John's Moncton, PEI, Sudbury and Vancouver Comedy Festivals.
So You Think You Can Dance Live Tour – Queen Elizabeth Theatre
Event date: January 8 | Time: 8pm
As Heard on TV – Orpheum Theatre
Event dates: January 8-9 | Time: 8pm
Stroll down memory lane with conductor Steven Reineke, and singer/comedian Nicole Parker from MADtv and Broadway's Wicked. The VSO takes you on a laugh-filled and nostalgic tour of some of the most iconic of all TV themes, including shows like Downton Abbey, Mad Men, Game of Thrones, Masterpiece Theatre, Monty Python's Flying Circus, the Judy Garland Show and more. Celebrate some of the extraordinary music from these unforgettable television shows, As Heard of TV!
Vancouver Canucks vs Tampa Bay Lightning – Rogers Arena
Event date: January 9 | Time: 7pm
Gershwin's Magic Key – Orpheum Theatre
Event date: January 10 | Time: 2pm
The story tells of a chance meeting on the streets of NYC between a poor newspaper boy and the great American composer, George Gershwin. The orchestra magically weaves Gershwin's greatest hits into the drama, as they explore the vast melting pot of American music and discover the key to unlocking the boy's own musical potential.
No Pants Skytrain Ride – Skytrain
Event date: January 10 | Time: 230pm
The No Pants Skytrain Ride is an annual global event started by Improv Everwhere in New York in 2002. The mission is simple: you ride the Skytrain with no pants.
Vancouver Canucks vs Florida Panthers – Rogers Arena
Event date: January 11 | Time: 7pm
Vance Joy – Orpheum Theatre
Event dates: January 12-13
Vance Joy has been making the rounds since 2013, recently opening for Taylor Swift on her 1989 tour. His first studio release Dream Your Life Away hit the airwaves last year, netting him significant praise in the singer-songwriter community and a huge degree of international fame.
Dirty Dancing – Queen Elizabeth Theatre
Event dates: January 12-17 | Various times
Dirty Dancing – The Classic Story on Stage is an unprecedented live experience, exploding with heart-pounding music, passionate romance and sensational dancing. Seen by millions across the globe, this timeless love story features the hit songs "Hungry Eyes", "Hey Baby", "Do You Love Me?" and the heart-stopping "(I've Had) The Time of My Life".
Boom – Granville Island Stage
Event dates: January 14-February 13 | Various times
A multi-media spectacle to define a generation.
Dine Out Vancouver 2016 – Various downtown restaurants
Event dates: January 15-31 | Various times
Canada's largest food and rink festival dishes up unlimited ways to enjoy the flavours of the city. Choose from a 17 day calendar of culinary events and experiences, hundreds of restaurants throughout the city and dozens of hotel options to create delicious dining experiences.
Gluten Free Expo – East Convention Centre
Event dates: January 16-17 | Time: 10am-5pm
Discover, sample and save on hundred's of gluten free products while learning from leading experts. This year's Expo is even bigger and better than ever!
Tchaikovsky and the Mermaid – Orpheum Theatre
Event dates: January 16 and January 18 | Time: 8pm
One of the most important and in-demand violinists in the world today, Augustin Hadelich makes his much-anticipated VSO return, performing maybe the most popular violin concerto ever written. Zemlinsky's lavish, rarely-performed orchestral masterpiece The Mermaid is based on Hans Christian Andersen's fairytale of the mermaid who sacrifices herself for an unrequited love, written by Zemlinsky after his rejection by Alma Schindler, in favour of her soon-to-be husband, the great composer Gustav Mahler.
Street Food City – North Plaza of Vancouver Art Gallery
January 16-24 | Time: Monday-Friday 11am-3pm, Saturday-Sunday 11am-5pm
Back for a fifth consecutive year, Street Food City will once again bring together a collection of Vancouver food carts in one central location.
The Mother***** with the Hat – Firehall Arts Centre
Event dates: January 16-January 30 | Various times
Fresh out of jail, convict Jackie tries to navigate the straight and narrow in this Broadway smash hit. Intent on staying clean, Jackie finds it's a formidable task with his coke addict girlfriend Veronica at his side. This gritty New York tale masterfully combines earnest storytelling and uninhibited humour, taking on addiction, sex and honour.
Vancouver International Boatshow – BC Place
Event dates: January 20-24 | Wed to Sat 10am-8pm | Sun 10am-5pm
Think you might need a bigger boat? Whether you have one or not, head to the Vancouver Boat Show to tour some of the finest watercraft on the market and think about sailing to somewhere warmer.
Bryan Callen – The Comedy Mixx
Event dates: January 21-23 | Various times
Callen got his start as original cast member of MAD TV and went on to play numerous roles on the small and big screen.
Shen Yun 2016 – Queen Elizabeth Theatre
Event dates: January 22- 24 | 2pm and 730pm
Shen Yun invites you to experience this divine culture of the Middle Kingdom. Shen Yun brings the profound spirit of this lost civilization to life on stage with unrivaled artistic mastery. Every dance movement, every musical note, makes this a stunning visual and emotional experience you won't find anywhere else.
A Bohemian Rhapsody – Orpheum Theatre
Event date: January 23 | Time: 8pm
Celebrating all things Bohemian, this concert features one of Mozart's wildest opera overtures and his famous brilliant Prague Symphony. You will also hear Liszt's poetic and beautiful Piano Concerto No. 2 and two movements from Smetana's enduring masterpiece, the set of symphonic poems known as Ma Vlast (My Homeland).
Vancouver Canucks vs Nashville Predators – Rogers Arena
Event date: January 26 | 7pm
Debra DiGiovanni – The Comedy Mixx
Event dates: January 28-30 | Various times
A favourite at Montreal's 'Just for Laughs Comedy Festival', dubbed as best comedian to see after a messy breakup!
The Egyptian Concerto – Orpheum Theatre
Event dates: January 30-February 1 | 8pm
VSO Associate Conductor Gordon Gerrard leads a magnificent classical program that includes one of Beethoven's most famous Overtures, a dramatic captivating symphony by Jean Sibelius and one of the most beautiful and exotic piano concertos in the French repertoire, performed by one of Canada's most famous and highly respected artistic leaders, wonderful pianist Louis Lortie.
PuSh Festival – Various locations
Event dates: January 19-February 14 | Various times
The PuSh Festival expands the horizons of Vancouver artists and audiences with work that is visionary, genre-bending, multi-disciplined, startling and original. The Festival showcases acclaimed international, Canadian and local artists and mixes them together with an alchemy that inspires audiences, rejuvenates artists, stimulates the industry and forges productive relationships around the globe.
Hot Chocolate Festival – Various locations
Event dates: January 16-February 14 | Various times
The Vancouver Hot Chocolate Festival is back for its fifth year, and this time, even ore chocolate makers have come together to spike their hot chocolate drinks with the wildest, most delicious flavours you can imagine.
Free Ice Skating at Robson Square – Robson Square
Event dates: November 29-February 28
Times: Sunday to Thursday: 9am-9pm, Friday and Saturday: 9am-11pm
Pride and Prejudice – Stanley Industrial Alliance Stage
Event dates: January 28-February 28 | Various times
A swoon-worthy adaptation of a beloved classic.
Flight of the Dragon – FlyOver Canada
Event dates: January 1-March 3 | 10am-9pm
2 sets of shows: Flyover China then Flyover Canada
Body Worlds: Animal Inside Out – Science World
Event dates: October 3-March 28
Animal Inside Out features over 100 preserved animal specimens ranging from the common pigeon to an expertly dissected camel. Visitors will be able to check out what's under the skin of some spectacular animals and determine what makes us the same – and different.
Connect with us on Facebook, Twitter and Instagram to stay in the loop with everything going on at the Hotel and around Vancouver!