Events and Entertainment Around Town – Halloween Edition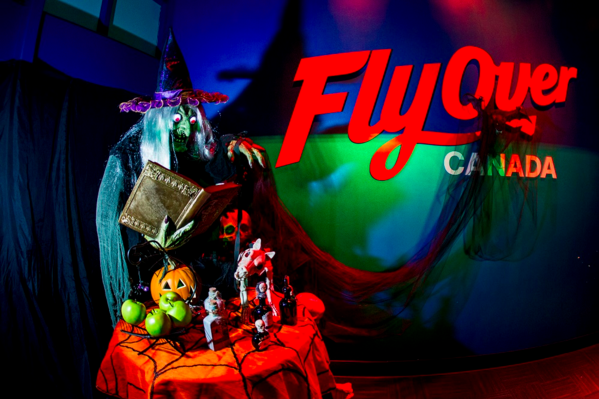 Trick or Treat! Vancouver is getting SPOOKY this month with a ton of frightening events. Join the thousands of revelers in scary costumes at the annual Halloween Parade, run away from zombie apocalypse, take a ride on the ghost train or spend a night with Norman Bates and the VSO, the choice is yours!
VSO at the Movies: Alfred Hitchcock's Psycho – Orpheum Theatre
Event date: October 12 | Time: 730pm
Prepare for Halloween's with a very special screening of Alfred Hitchcock's Psycho. Bernard Herrmann's spine-tingling score elevates this cinematic masterpiece to new heights in a thrilling big-screen presentation, accompanied by the Vancouver Symphony Orchestra. Re-live one of the greatest thrillers of all time and re-discover one of the most iconic scores in cinema history.
Halloween Parade and Expo – Various locations
Event dates: October 13-16 | Various times
The Halloween Expo is happening Thursday, October 13 to Sunday, October 16, with the parade wrapping up the event on the last day. Parade stars at 11am.
Halloween Monster Match – Improv Centre at Granville Island
Event date: October 29 | Time: 815pm
Featuring costumed performers in two head to headless SPOOKtacular competitions where all but one ghoul will perish!
Burnaby Haunted Village – Burnaby Village
Event dates: October 27-30 | Various times
Come waning moon or silver wet cloud, wear your costumes to explore the Village in the dark of night.
The Zombie Syndrome: Dead in the Water – Various locations in Granville Island
Event dates: October 4-31
The Virtual Stage's long-running zombie theatre phenomenon shows no sign of slowing down – this time boasting a full-fledged boat chase across False Creek. Dead in the Water may finally answer that burning hypothetical question: in the event of a zombie invasion, would you be better off on land or in the water? Be ready to move in this roving adventures around Granville Island, using smartphones and clues to chase down a new threat to the City of Vancouver: zombie-vampires.
Fright Nights at the PNE – Playland at the PNE
Event dates: October 7-31
Western Canada's scariest haunt.
Stanley Park Miniature Railway, Ghost Train, Day of the Dead – Stanley Park
Event dates October 8-31 | Time: 530pm onwards
Be serenaded by a mariachi band of cockroaches, ride the train through the tunnel of flames with the Aztec Lord and Lady of Death, and picnic with us in a gorgeous graveyard where friendly souls return to dance with a twelve foot skeleton.
Halloween at FlyOver Canada – FlyOver Canada
Event dates: October 13-31 | Time: 4pm-9pm
Everyone's favourite witch Broomelda is back and ready to take you on a spellbinding journey across Canada. Join Broomelda and her class of witches and wizards, at the Haunted Witch Academy and embark on some spooky adventures before buckling up for the special Halloween Ride at FlyOver Canada.
Haunted Vancouver Trolley Tours – Vancouver Trolley
Event dates: October 14-31 | Various times
Glow in the Garden – Van Dusen Botanical Garden
Event dates: October 24-31 | Time: 5pm
The Garden comes to life with spellbinding lights, ghoulish music, and glowing pumpkin characters created by award-winning carvers, Clive Cooper and Bruce Waugh.
Hidden: ITSAZOO – UBC Botanical Garden
Event dates: October 22-November 13 | Time: 8pm
ITSAZOO presents a bone-chilling site-specific horror event: Hidden. Blurring the lines between performance and reality, we will guide audiences of 13 people, armed only with flashlights, on the Lost Lovers Murder Tour – a frighteningly accurate re-enactment of the infamous and unsolved murders that occurred exactly 20 years ago, deep within the forest.
Connect with us on Facebook, Twitter and Instagram to stay in the loop with everything going on at the Hotel and around Vancouver!
Photo credit: FlyOver Canada