Events and Entertainment Around Town – Christmas Edition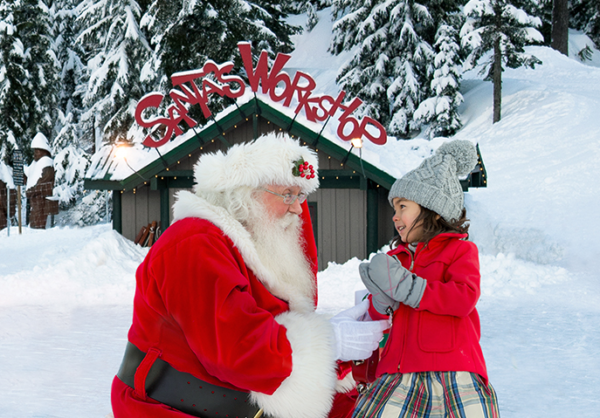 Photo credit: Grouse Mountain
It's the end of the year, which means there's TONS of events taking place in Vancouver. Here's our mega list Christmas happenings that will sure to put you in the festive mood!
Reminder! Make sure to stop by our Christmas Wish Breakfast on Wednesday, December 13 between 6am-9am. Each year, the Pan Pacific Vancouver hosts one of Canada's largest toy drives where the public is asked to bring a new, unwrapped toy to donate to the Lower Mainland Christmas Bureau for families in need. As a thank you to everyone who makes a donation, the Hotel will be offering a free breakfast.
CandyTown – Mainland Street on Yaletown
Event date: November 25 | Time: 12pm-7pm
6th annual free outdoor Christmas festival.
Concert and Sing Along – St Andrew Wesley United Church
Event date: December 1 | Time: 7pm
A special music concert with choirs, brass and organ. Also included is a traditional Christmas carol sing-along.
The Shipyard's Christmas Festival – North Vancouver Pier
Event date: December 2 | Time: 4pm-7pm
Free family activity with an appearance and photo op with Santa between 530pm and 7pm. Christmas tree lighting by Mayor Mussatto at 5pm.
Scuba Claus – Vancouver Aquarium
Event dates: November 24-December 3
See the jolly man swimming at the Vancouver Aquarium.
Christmas with the Bach Choir – Orpheum Theatre
Event date: December 3 | Time: 2pm
Vancouver Bach Choir's annual holiday tradition returns to gather the entire Bach Choir family to sing in the season.
Kenny G – The Miracles Holiday and Hits Tour – Queen Elizabeth Theatre
Event date: December 3 | Time: 730pm
A Jann Arden Christmas at VSO – Orpheum Theatre
Event date: December 6 | Time: 8pm
Canada's beloved pop diva Jann Arden brings her sensational voice and warm, witty personality to this holiday-season extravaganza.
Lumiere Vancouver – West End, English Bay and Jim Deva Plaza
Event dates: December 2-9 | Various times
An annual event inspired by light and artistic expression, driven by community and connection.
Make It! Holiday Show – PNE Forum
Event dates: December 7-10 | Various times
A fun, upbeat shopping experience that showcases artists, crafters, and makers from all over Canada. Find more than 265 exhibitors selling gorgeous handcrafted items made with love and intention.
A Traditional Christmas – St Andrew's Wesley Church
Event dates: December 8-10 | Time: 4pm and 730pm
Celebrating the 25th anniversary of the lower mainland's most beloved Christmas music tradition.
Winter Holidays at The Roundhouse – Roundhouse Community Centre
Event dates: December 9-10 | Time: 12pm-430pm
Photos with Santa, including printed portraits, cookie decorating with holiday themed cookies and festive outdoor lighting.
Breakfast with Santa – Roundhouse Community Centre
Event date: December 10 | Time: 10am-12pm
Join Santa and his helpers for a pancake breakfast, face painting, arts and crafts.
VSO Tiny Tots Holiday Hooray! – Vancouver Playhouse
Event date: December 15 | Time: 10am and 1130am
Sing along to frosty favourites while you move along with miniatures from "The Nutcracker", "Babes in Toyland", and other sparkly holiday classics. Accompanied by a brass trio.
Bah Humbug – SFU Woodwards
Event dates: December 7-16 | Various times
Charles Dicken's A Christmas Carol comes to life in modern-day east Vancouver under the direction of James Fagan Tait, Jessie award-winning actor, playwright and director.
A Baroque Christmas – Orpheum Theatre
Event date: December 16 | Time: 8pm
The great Baroque era composers knew how to write music that literally dances with joy. Join the Vancouver Chamber Choir family of choirs, orchestra and soloists for a concert which celebrates the Christmas season.
Christmas with Chor Leoni – St Andrew Wesley Church
Event dates: December 15-18 | Various times
Chor Leoni's holiday offering combines favourite tunes in polished settings, sparkling new choral gems, frosty winter songs and familiar sing-along carols.
Goh Ballet's The Nutcracker – The Centre in Vancouver
Event dates: December 14-19 | Various times
The lights dim and the beautiful sounds of Tchaikovsky's music fill the air.
Christmas Queen 4 – Secret Santa – Improv Centre at Granville Island
Event dates: November 22-December 23 | Various times
The Christmas Queen is back, only this time she and Santa switch bodies, potentially changing the course of Christmas forever.
Saturday Nights Christmas Queen Drag Race – Improv Theatre
Event dates: November 25-December 23 | Time: 1115pm
The (lace) gloves come off as these two Grand Dames put contestants through their paces in a series of improv challenges with the help of audience suggestions resulting in the 'be-jewelling' of a new Drag Diva.
The Day Before Christmas – Goldcorp Stage at BMO Theatre Centre
Event dates: November 16-December 24 | Various times
Alex is a perfectionist who is desperately holding fast to her Christmas traditions. While juggling family and work – and a movie star – she loses control of her holifay lans, and her home becomes a disaster zone.
Vancouver Christmas Market – Jack Poole Plaza
Event dates: November 22-December 24 | Time: 11am-9pm (open until 6pm Dec 24)
The 8th annual authentic German-inspired Christmas Market creates the perfect atmosphere to get into the holiday spirit. Experience a selection of traditional food and beverages, and browse vendors offering authentic wood carvings and toys, knitted goods, nutcrackers, pottery, and other unique gifts.
Breakfast with Santa – Grouse Mountain
Event dates: December 2-24
Karaoke Christmas Lights Tour – Vancouver Trolley Tour
Event dates: December 1-28
A Vancouver Trolley annual tradition visiting festive light display.
Gingerbread Lane – Hyatt Regency Vancouver
Event dates: December 1-29
An annual festive display of tasty-looking Christmas gingerbread creations.
30th Annual Christmas at Canada Place
Event dates: November 23-December 31
Free walk-through experience includes the Woodward's Windows, Avenue of Christmas Trees, winter lighting display, Sails of Lights and more.
Festival of Trees – Four Seasons Hotel
Event dates: November 30-January 1
Tour an enchanted forest of decorated trees at Four Seasons Hotel and Pacific Centre Mall to raise funds for BC Children's Hospital.
The Bright Nights Christmas Train – Stanley Park
Event date: November 30-January 6
During the holiday season, the Bright Nights Christmas Train and Stanley Park Train Plaza sparkle with three million twinkling lights.
Christmas at FlyOver Canada – FlyOver Canada
Event dates: November 23-January 7
Join Santa on a magical flight across Canada and onto the North Pole.
The Peak of Christmas – Grouse Mountain
Event dates: November 24-January 7
Vancouver's North pole where you can visit Santa's workshop, meet real reindeers and stroll through a Gingerbread Village.
Festival of Lights – VanDusen Botanical Garden
Event date: December 1-January 7
A magical winter wonderland with over one million lights decorating VanDusen Botanical Garden
Holiday Heights at Bloedel Conservatory – Queen Elizabeth Park
Event dates: December 14-January 7
Warm up inside the tropical dome while enjoying the exotic birds, lush gardens and holiday light display produced by MK Illumination.
Canyon Lights – Capilano Suspension Bridge
Event dates: November 23-January 28
Be amazed by the hundreds of thousands of lights throughout Capilano Suspension Bridge Park.
Connect with us on Facebook, Twitter and Instagram to stay in the loop with everything going on at the Hotel and around Vancouver!