Cocktails and Appetizers at Cafe Pacifica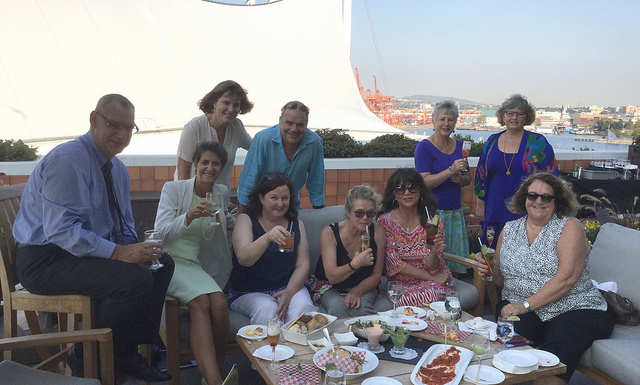 What goes great with a warm, summer day in Vancouver? Well, that would have to be having cocktails with friends at a outdoor terrace.
That's exactly what we did when we invited Vancouver Sun's Jane Mundy, Vancouver Courier's Sandra Thomas, Fairchild Radio's Condrea Fung and writers Ursula Maxwell-Lewis, Janice and George Mucalov, Joanne Blain and Cassandra Anderton (not pictured) to join General Director Craig Norris-Jones, Executive Assistant Kathryn Poole and PR Manager Laurie Cooper in sampling appies and cocktails at Cafe Pacifica.
What made these drinks extra special were that they were from our Vancouver-themed menu.
Feeling a little "East Vancouver" today? Order a refreshing Sakura Sour, made of Tanqueray Rangpur, sake, cherry herring, fresh lemon juice and suius cherry bitters.
Or maybe you're in the mood for something more "North Vancouver"? How about the Evergreen cocktail made of Don Julio Blanco, Chartreuse, juniper berries, pine syrup, lime juice and soda?
Perhaps the Bloody Alley, made of Bulleit Bourbon, Peychaud's bitters and blood orange syrup, from our "Chinatown" menu is more up your alley?
Or maybe a liquid concoction of Crown Royal Cask No. 16, basil, red grapes and soda that makes up the Canadese from our "Commercial Drive" menu?
When asked what the group's favourite cocktail was, everyone agreed that the Kale Gimlet was the hands down winner. This Kitsilano themed cocktail is made of Tanqueray No. TEN and Grand Marnier with fresh squeezed kale, pineapple and lime juices.
Ten refreshing cocktails, celebrating five eclectic neighbourhoods, found in this great city of ours. Try them today!
Connect with us on Facebook, Twitter and Instagram to stay in the loop with everything going on at the Hotel and around Vancouver!