Van Foodster 100 Mile Cocktail Challenge
Right now the Cascades Lounge Bar is offering a delicious cocktail creation in competition of the Vancouver Foodster 100 Mile Cocktail Challenge.
The Concept: Participating restaurants and bars have created special Cocktail creations just for this challenge. Each restaurant/bar will be featuring their cocktail on their menu from July 4-27, 2014. You Taste and Vote for your favourites.
This year Scott Moriarty (bartender at the the Cascades Lounge) created the Ruby Line: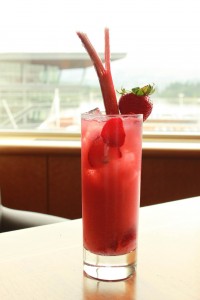 a tangy and refreshing summer sipping cocktail inspired by the St. John's Newfoundland area known as the Ruby Line, where rhubarb grow wild and are a summer treat.
Ingredients include:
§ 1.5 oz long table gin
§ 2.5 oz glorious organics rhubarb juice
§ 8 drops moondog cherry suis bitters
§ 1 strawberry
§ 1/4 oz vanilla bean syrup
§ Top with soda
§ Splash tonic
§ Garnish with sugar dipped rhubarb spear
Price of drink- $16.00
To vote for this cocktail, click here.
Voting ends on July 27, 2014