Sunday Means Brunch Time at Pan Pacific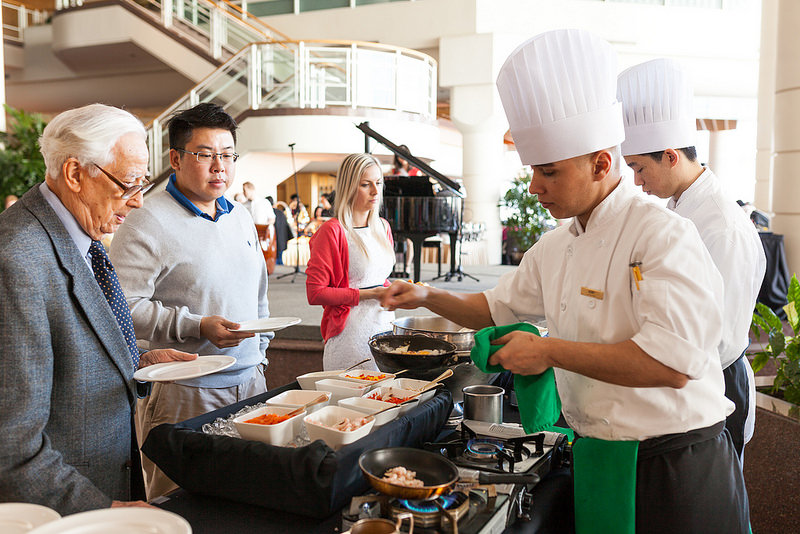 Did you know that Pan Pacific Vancouver offers Sunday Brunch? In fact, we're celebrated for it! Our popular mainstay at Cafe Pacifica runs from 1130am to 230pm (great for those who like to sleep late on the weekends!)
We offer an expansive buffet, so there's something for everyone. Peruse the buffet tables and choose from an array of seafood items, dim sum, fruits and salads, made-to-order omelettes, as well as, a dessert table!
Featured hot entrees may include pork loin stuffed with apple, apricot fennel and rosemary jus, flat iron steak with mushroom sauce, lingcod tilapia and salmon with ciopino sauce, salmon wellington,  singapore noodles or chicken stirfry with black bean sauce for example. The menu changes every week, so there's always something new to try.
Little known facts about our Sunday Brunch:
Pan Pacific started offering brunch in 1996.
We can accommodate reservations of up to 200 guests
25% of people coming to brunch are non-hotel guests
1130am-1230 is the busiest time
So what makes our Sunday Brunch stand out?
We offer popular items such as shellfish, sushi, king crab, prawns, sablefish
The fish and meat items are cut the day before, but everything else is done on the same day as brunch
We can accommodate large parties
Special requests can always be met (with lead time)
All our produce is fresh and we source locally as much as possible
The views!
And above all, in the words of Executive Sous Chef, Stefan Maenner, "The guest is the king!"
To book your spot for Sunday Brunch, call 604-895-2480 or click here for more information.
Connect with us on Facebook, Twitter and Instagram to stay in the loop with everything going on at the Hotel and around Vancouver!