Events and Entertainment Around Town – September Edition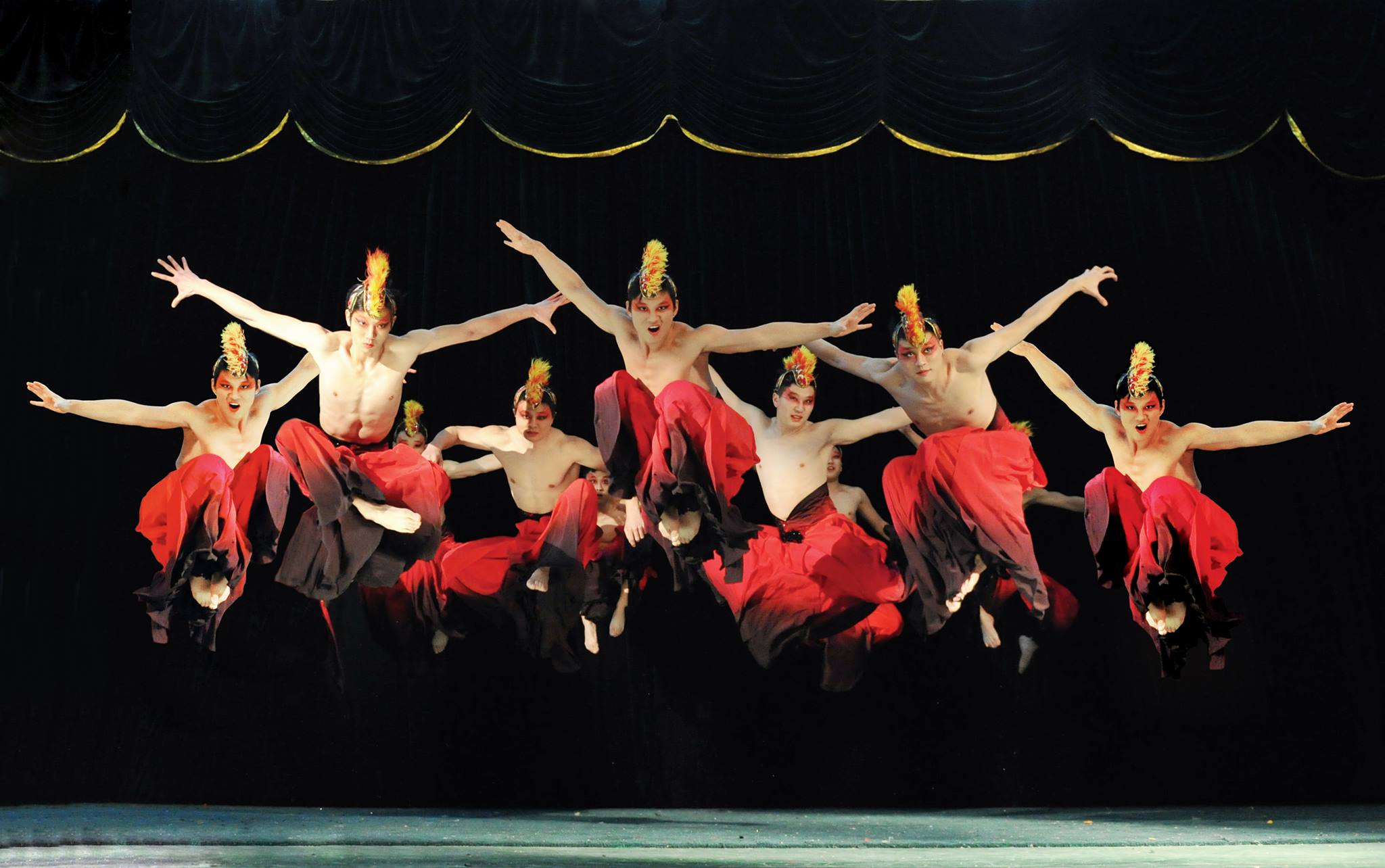 Photo credit: Shanghai Acrobats
Summer may be winding down, but that doesn't mean there aren't a lot of events going on in Vancouver! Some of them even outdoors! Whether you're into dance, music, movies, laughs or sports, there's something for everyone in September!
Shanghai Nights: A Dream Journey – Orpheum Theatre
Event date: September 1 | Time: 730pm
One of the original Cirque-style performance troupes, the world-famous Shanghai Acrobats continue to astonish audiences around the globe with their amazing displays of artistry and athleticism. Performance is presented by the VSO, and does not feature the orchestra.
Friday Nights Summer Dance Series – Robson Square on 800 block
Event dates: June 24-September 2 | Time: 730pm-1130pm
It's back! Dance the night away for free as DanceSpot BC brings back the Robson Square Summer Dance Series. Free lessons, shows and social dancing. No partner or experience required – just show up and have some fun!
Vancouver Whitecaps vs New York Red Bulls – BC Place
Event date: September 3 | Time: 4pm
Erica Sigurdson – The Comedy Mixx
Event dates: September 1-3 | Various times
Based in Vancouver, Erica Sigurdson is a strong dominating force in the Canadian Comedy scene, as well as, an award-winning writer. Her comedy festival credits include Montreal Just for Laughs, Winnipeg, Halifax, St. John's, Moncton, PEI, Sudbury and Vancouver Comedy Festivals.
The Book of Mormon – Queen Elizabeth Theatre
Event dates: August 23-September 4
Hailed by The New York Times as "the best musical of this century" and the winner of nine Tony Awards, The Book of Mormon is the blockbuster smash from South Park creators Trey Parker and Matt Stone, and the Oscar-winning composer of Disney's Frozen and Avenue Q, Bobby Lopez. This outrageous musical comedy follows the misadventures of a mismatched pair of missionaries, sent halfway across the world to spread the Good Word.
America's Masters Games – Jack Poole Plaza
Event dates: August 27-September 4 | Various times
Opening ceremonies: Sat, August 27 (6pm-930pm) – the Olympic Cauldron will be lit during the ceremonies. Celebration site: Sunday, August 28-September 3. Site open: 12pm-10pm and entertainment is from 4pm-930pm. Closing ceremonies on Sunday, September 4 from 3pm-5pm.
Fair at the PNE – PNE
Event dates: August 20-September 5
Hundreds of new nightly performances, exhibits, more than 50 thrilling rides and attractions, plus lots of food!
Taiwan Fest 2016 – Various downtown locations
Event dates: September 3-5 | Various times
Experience a taste of Taiwan at the annual Taiwanfest Vancouver! Immerse yourself in Asian culture through culturally inspired performances, authentic visual arts and tantalizing cuisine.
14th Vancouver Latin America Film Festival – SFU Woodward, Cinematheque and Vancity Theatre
Event dates: August 25-September 9 | Various times
Exhibition of Latin America cinema in Vancouver.
BC Lions vs Montreal Allouettes – BC Place
Event date: September 9 | Time: 7pm
Keith Urban ripCord 2016 World Tour – Rogers Arena
Event date: September 10 | Time: 730pm
Dan Quinn – The Comedy Mixx
Event dates: September 8-10 | Various times
Dan Quinn is a natural storyteller. With tales taken from his life, he has become an international headliner. He is founder and member of the hugely popular Snowed in Comedy Tour. He tours Canada, US and UK. His comedy is honest, personal, edgy, relatable and always funny.
Vancouver Street Food Festival – Plaza of Nations
Event date: September 11 | Time: 12pm-6pm
30 street Vancouver Society trucks, live music, family fun entertainment. Free.
Boat Show at the Creek – Mosquito Creek at Lonsdale Quay
Event dates: September 8-11 | Various times
Vancouver's premiere boat show.
Luxury Supercar Weekend – Van Dusen Botanical Garden
Event dates: September 10-11 | Time: 11am-5pm
Canada's most engaging luxury lifestyle automative event of the year.
Chef Meets Truck – Hamilton and Nelson in Yaletown
Event date: September 13 | Time: 630pm-930pm
Vancouver restaurant chefs hopping on board local food trucks to serve up the foodie event of the season. This collaborative event brings Vancouver's hottest restaurant and food truck chefs together for the first time ever!
Steph Tolev – The Comedy Mixx
Event dates: September 15-17 | Various time
Steph Tolev is a stand up and sketch comedian from Toronto, who currently lives in Los Angeles. Her unique brand of absurd, personal and fairly gross comedy has made her an audience favourite across North American both on stage and on television.
Playland at the PNE
Event dates: May 7-September 18
Summertime fun at Vancouver's premiere amusement park!
Drake – Rogers Arena
Event dates: September 17-18 | Time: 7pm
2016 Fringe Festival – Granville Island and other venues
Event dates: September 8-18 | Various times
The Vancouver Fringe is a celebration of theatre for everyone featuring more than 800 performances by over 90 artists over 11 days.
Sharon, Bram and Friends – Orpheum Theatre
Event date: September 18 | Time: 2pm
These legendary Canadian children's singers have been rocking the stage for decades, and they've still got it! A delight for kids and parents.
Sigur Ros – Queen Elizabeth Theatre
Event date: September 18-19 | Time: 830pm
Icelandic post-rock band.
Dolly Parton – Rogers Arena
Event date: September 19 | Time: 730pm
Vancouver International Flamenco Festival – Various locations
Event dates: September 10-20 | Various times
Soul of Shaolin – Queen Elizabeth Theatre
Event date: September 21 | Time: 7pm
A theatrical event presented on Broadway by Nederlander Worldwide Entertainment to coincide with the celebration of the Lunar New Year in January 2009. The first production from the People's Republic of China ever to appear on Broadway.
Legend of Zelda Symphony – Queen Elizabeth Theatre
Event date: September 23 | Time: 8pm
Vancouver Whitecaps vs Colorado Rapids – BC Place
Event date: September 24 | Time: 4pm
Bard on the Beach – Vanier Park
Event dates: June 3-September 24 | Various times
This year's line up are: The Merry Wives of Windsor, Romeo and Juliet, Othello and Pericles. Annual festival underneath the tents of Vanier Park.
Kevin Foxx – The Comedy Mixx
Event dates: September 22-24 | Various times
From the smash success of his funny and irreverent radio show, The Kevin Foxx Show, on Toronto's hit ration station CFRB to nightly shows at comedy clubs and corporate stages, Kevin Foxx is simply one of the funniest and most versatile performers working in North America today.
Granville Island's Farmer's Market – Triangle Square Granville Island
Event dates: June 2-September 25 | Time: 10am-3pm
In supplement to the ongoing Public Market there is a seasonal farmers' market at Granville Island. This cash-only market is steps from all the great food vendors and has been around for 30 years.
Hermès at Work – Jack Poole Plaza
Event dates: September 21-25 | Time: 11am-7pm
This free traveling event brings Hermès craftspeople from the intimacy of their ateliers in France to meet the public and demonstrate their highly skilled craft.
Bacon Convention – PNE Forum
Event dates: September 24-25 | Various times
PNE Forum will be transformed into a pancetta-paradise by over 100 booths featuring bacon-covered and/or inspired food, drink and products. Bacon-filled contests, events, door prizes, activities, raffles and more!
VSO Season Opening: The Rite of Spring – Orpheum Theatre
Event dates: September 24-26 | Time: 2pm and 8pm
The 2016/2017 season opens with a bang, starting with award-winning Composer-in-Residence Jocelyn Morlock's first VSO commission. Maestro Tovey and the VSO welcome back Vancouver favourite Alexander Gavrylyuk to perform the most famous piece in the piano repertoire, and the concert wraps with the wild, exciting orchestral showpiece that is Stravinsky's The Rite of Spring. (2pm show is only on September 25)
Pre-Season: Vancouver Canucks vs Edmonton Oilers – Rogers Arena
Event date: September 28 | Time: 7pm
Shiamak's Bollywood Jazz – Scotiabank Dance Centre
Event date: September 29 | Time: 12pm
Originally springing from India's booming film industry, Bollywood dance has become its own wildly popular genre, mashing together jazz, folk and modern influences with lavish costumes and inventive props. The Shiamak Dance Team, Vancouver will get your toes tapping with a colourful, high-energy performance bursting with infectious rhythms, vitality and fun.
Free Orpheum Theatre Tour – Orpheum Theatre
Event dates: July 12-September 30 | Time: 11am
Behind the scenes tour of iconic Orpheum Theatre Tuesday, Thursday and Saturday. Reservations recommended.
Paul Myrehaug – The Comedy Mixx
Event dates: September 29-October 1 | Various times
Paul began his comedy career in Alberta and now is an internationally toured comedian with appearances on television, radio, festivals and world renowned comedy competitions.
Picasso: The Artist and His Muses – Vancouver Art Gallery
Event dates: June 11-October 2
Over 60 classics from Spanish artist Pablo Picasso. The pieces, which include works such as "Claude et Paloma" and "Femme au chapeau" will form part of Picasso: The Artist and his Muses.
Main St. Station Farmer's Market – 1100 Station Street
Event dates: June 1-October 5 | Time: 2pm-6pm
See, taste, and indulge at this bustling weekday market. With vendors lined up on the east side of Thornton Park on the sidewalk along Station Street, the Main Street Station Farmer's Market is within ideal reach on foot for bus and Skytrain users.
Baskerville: A Sherlock Holmes Mystery – Stanley Industrial Theatre
Event dates: September 8-October 9 | Various times
Five actors play over 40 comical characters, filling the stage with suspects, allies, and heirs in this zany whodunit based on the Arthur Conan Doyle classic. When the wealthy Henry Baskerville is threatened by the fable of a bloodthirsty hound on the moors, Holmes and Watson are on the case to sniff out the culprit. The game's afoot in this hilarious thriller that's anything but elementary!
Richmond Night Market – near Bridgeport Station of Canada Line
Event dates: May 15-October 12 | Various times
Friday and Saturday (7pm-midnight), Sunday and stat holidays (7pm-11pm) The largest night market in North America since 2000.
Vancouver International Film Festival 2016 – Various downtown movie theatres
Event dates: September 29-October 14 | Various times
The 35th annual Vancouver International Film Festival will once again welcome some of the world's finest films to one of the most beautiful cities on the planet.
Angels in America – Studio 58 (near Langara Station)
Event dates: September 29-October 16 | Various times
Winner of the Pulitzer Prize for Drama, the Tony Award for Best Play and the Drama Desk Award for Outstanding Play in 1993, Angels in America has become a seminal work of the North American canon. Set during the AIDS epidemic in Reagan-era New York City, the play follows two very different, but equally troubled young couples, one gay and the other seemingly heterosexual, whose paths cross by chance. Utilizing everything from precise realism to surrealistic hallucination, and wicked humour to wrenching drama, the play not only examines matters of life, death and faith, it is a political call to arms for the age of AIDS>
West End Farmer's Market – Comox Street (between Bute and Thurlow)
Event dates: May 28-October 22 | 9am-2pm
The West End's charming, community-minded farmer's market is open Saturdays. Grab a coffee, peek at the adjacent community garden and stock up on a vast array of locally grown foods.
Yaletown Farmer's Market – 1200 Mainland Street
Event dates: May 5-October 27
A very urban market indeed. The pedestrian-friendly streets of Yaletown welcome vendors and farmers Thursday afternoons and evenings for a terrific food and shopping experience, right at the Yaletown-Roundhouse Canada Line station.
The Flick – Granville Island Stage
Event dates: September 29-October 29 | Various times
Set in a run-down movie theatre, this Pulitzer Prize-winning comic drama follows three underpaid ushers who'll do anything to keep the beloved and endangered local landmark running. As they share their hidden hopes for the future, an intimacy forms among these outsiders who at first glance have only one thing in common. Sharp-witted and insightful, The Flick is a sideways look into the lives of young people navigating their place in the world.
All Together Now – Musuem of Vancouver
Event dates: June 20-Jan 8 | Various times
Check out the Museum of Vancouver's latest exhibition of the weird and wonderful stuff collected by the residents of Vancouver, including artistic taxidermy, artificial eyeballs and antique corsets.
Connect with us on Facebook, Twitter and Instagram to stay in the loop with everything going on at the Hotel and around Vancouver!