Eastside 10K: Pan Pacific Team (and a Personal Best!)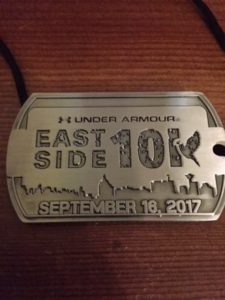 This past weekend, three Pan Pacific Associates participated in the Under Armour Eastside 10K, a run through East Vancouver.
Beginning in Gastown, just a few minutes from the hotel, our Associates proudly finished the race, with Michelle even beating her personal best – by 4 seconds!
The 10-kilometre run "in, for, and with the Eastside" supported three community charity partners: the Downtown Eastside Women's Centre, the Greater Vancouver Food Bank, and the PHS Community Services Society.
Only 360 days until next year's race! Congratulations to our Associates, and we'll be cheering for another personal best next year.
---
Did you participate in this year's Eastside 10K? Let us know your favourite race in Vancouver!
Connect with us on Facebook, Twitter and Instagram to stay in the loop with everything going on at the Hotel and around Vancouver, and follow our Instagram Stories for a behind the scenes look at #panpacificvancouver life!