Downtown Vancouver's Only Waterfront Celebration!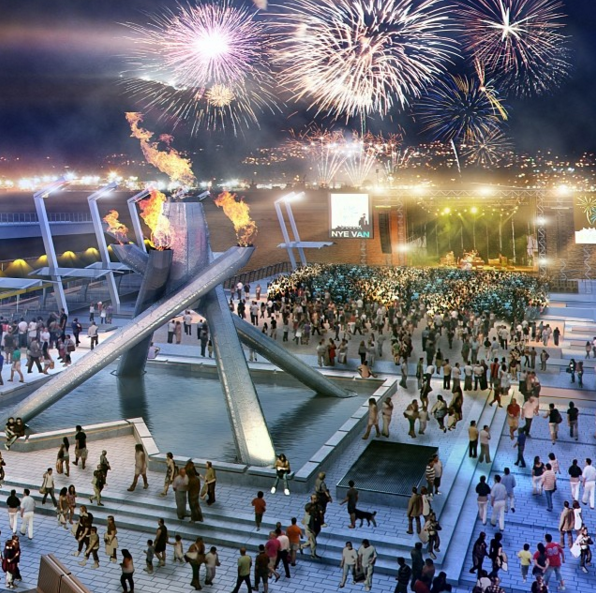 Photo credit: nyevan
10… 9… 8… The countdown is on for one of Vancouver's best New Year's Eve celebrations yet.
Ring in 2016 at this all-ages community event with free musical entertainment on the 102.7 The PEAK Stage, food trucks, sponsor activities, live on-site broadcasts and a midnight countdown capped off with spectacular fireworks over Coal Harbour.
Here is a schedule of the performances on the 102.7 The PEAK Stage:
6:00pm DJ and MC Welcome
6:35pm First Nation Welcome
7:30pm DJ
7:45pm Kin Fung Athletic Group
8:00pm Bed of Stars
8:40pm Vancouver Okinawa Taiko
9:00pm Family Countdown with fireworks!
9:40pm The Matinee
9:55pm We Are The City
10:40pm Dear Rouge
11:25pm Current Swell
12:00pm Midnight Countdown with more Fireworks!
Looking for something a little more special? Visit Tickets Tonight to purchase tickets to the CF Pacific Centre Premium Viewing Lounge on the west promenade of Canada Place. This all ages licensed area will feature comfortable lounge seating, gourmet food carts, private washrooms, audio simulcast of band performance, the fireworks soundtrack and much more.
The event will be live broadcast by Global TV between 11pm and midnight and the fireworks soundtrack will be simulcast on 102.7 The PEAK for your enjoyment.
For more info, click here.
Connect with us on Facebook, Twitter and Instagram to stay in the loop with everything going on at the Hotel and around Vancouver!