A Taste of Dine Out 2018 Vancouver at Pan Pacific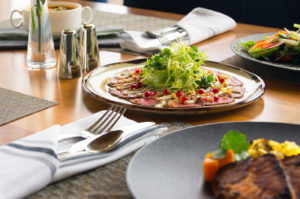 Oceans 999 is ready to celebrate Dine Out Vancouver. 2018 marks the 20th year of this 17-day festival of delicious events that provide locals and visitors alike with unique culinary experiences.   
We were lucky enough to track down Chef Brody Paine who has created this year's Dine Out menu for the Pan Pacific Vancouver's – Oceans 999 Restaurant.   A man with a lifelong passion for the culinary arts, Chef Brody followed his love across Italy to discover, first hand, the intricacies of authentic European cuisine.  Chef Brody loves having the freedom to experiment with dishes and his talents earned him his position as Chef for Team USA during the 2006 Turin Olympics.
Chef Brody and the Oceans 999 team have designed a mouthwatering menu featuring locally sourced and seasonal ingredients, uniquely combined to create an unforgettable fusion of Westcoast/European tastes, textures and aromas. 
Appetizers: 
Main Course: 
The Dine Out Vancouver Festival runs for 17 days, starting January 19th.  To make sure you don't miss out, click here or call us at +1 604 895 2480 to book your Dine Out Vancouver experience.