Dare to Dream Bridal Show at the Pan Pacific Vancouver
Something Borrowed Wedding & Event Planning is proud to invite you to Dare to Dream Bridal Show hosted by the Pan Pacific Vancouver on Sunday March 10, 2013.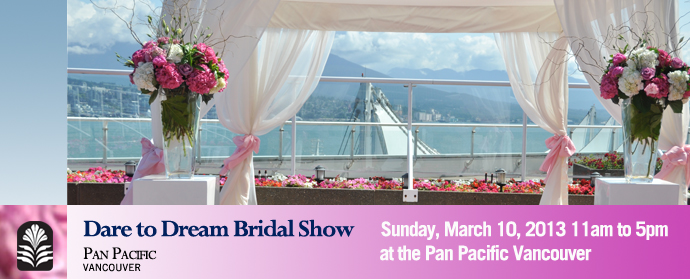 The 3rd annual bridal show is the perfect opportunity to connect with respected industry experts in the Vancouver Bridal business. The show is filled with fresh ideas, the latest trends and will showcase the best in decor, flowers, cake and more. At 1pm there will also be an exclusive fashion show put on by Bisou Bridal. Admission is $20  per ticket (or 2 for $35) and all proceeds will be donated to the Canucks Place Children's Hospice.
Here's a look at what you can expect:
When: March 10: 11am-5pm
Where: Pan Pacific Vancouver Hotel, "R" Level
To purchase your tickets, click here.