Canada's Largest Single Day Toy Drive Benefits Lower Mainland Christmas Bureau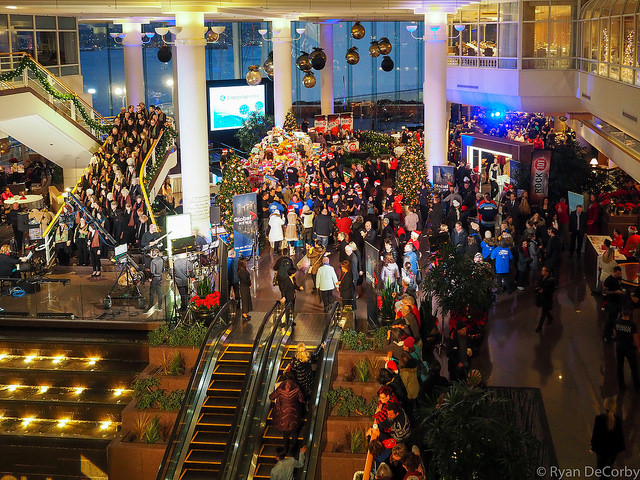 On Tuesday, December 13th, over 5,000 generous Vancouver residents attended the Pan Pacific Vancouver Christmas Wish Breakfast and, in just three hours, they donated over 22 tonnes of toys, filling over one hundred feet of tractor trailer space. In addition, two thousand bicycles and several thousand of dollars was donated.
"Pan Pacific Vancouver has been hosting this event for 29 years," says General Manager Craig Norris-Jones. "It started off in 1987 with 25 guests and now our team serves breakfast to over 5,000 people each year. And we have great supporters like Global TV and Rock 101 who get the word out about the event.:
"This is our biggest event of the year," says Chris Bayliss, Executive Director of the Lower Mainland Christmas Bureau. "Because of the generosity of everyone who attended, we will be able to take care of thousands of families who wouldn't otherwise be able to celebrate Christmas."
In addition to toys, over two thousand bikes were collected and donated by Dominion Lending Centres across the province.
"We are delighted to be involved in such a heartwarming and important event," says Gary Mauris, President and CEO of Dominion Lending Centres. "It has become an important Christmas tradition for our company."
Everyone who turned up between 6:00 and 9:00 am to donate a toy was treated to a gourmet breakfast prepared by the culinary team at Pan Pacific Vancouver.
Executive Chef Geoff Carkner and the Pan Pacific culinary team served up 18,000 eggs,12,000 sausages, 450 pounds of hash browns, 6,000 croissants and 3,000 muffins. The crowd was entertained by the joyful singers from the Good Noise Gospel Choir and the entire event was broadcast live on Global TV and Rock 101.
Volunteers from the City of Vancouver Fire Department stacked the toys into a two storey high "tree" and then loaded all of the toys into trucks for transport to the Lower Mainland Christmas Bureau warehouse, where they will be sorted and distributed to families in need.
Thank you to all our sponsors: Global BC, Rock 101, Vancouver Convention Centre, Dominion Lending Centre, Starbucks Coffee, AMJ Campbell Movers, WestPark, Stagevision Audio Visual, (GFS) Gordon Food Services, London Drugs, Vancouver Firefighters, Yen Brothers, English Bay Cookies, Saputo, Enterprise Paper, and Lower Mainland Christmas Bureau.
For photos of the event, press play on the slideshow or click here for our Flickr album.
Connect with us on Facebook, Twitter and Instagram to stay in the loop with everything going on at the Hotel and around Vancouver!