An Authentic Salute to Robbie Burns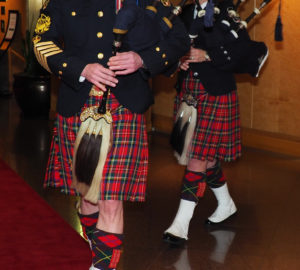 With the red carpet rolled out for arriving guests, Pan Pacific Vancouver celebrated the first annual Traditional Salute to Robbie Burns on January 25th. This celebration marks, what is hoped to be, the first of many, celebrations of the famous Scottish Poet hosted by the Pan Pacific Vancouver in partnership with ScotCanBC and the British Canadian Business Association.
The inaugural evening began with whisky samplings and traditional Scottish treats including Tattie Scones, Kippers on toast, and mini Scotch pies.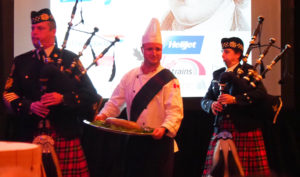 Bagpipes paraded guests into dinner followed by a welcome and Selkirk Grace by Gareth Withers, President – ScotCanBC. Then, with appropriate decorum, the piping in of the Haggis began with Ross McDonald, Board Director – ScotCanBC, performing the honours of Ode to The Haggis.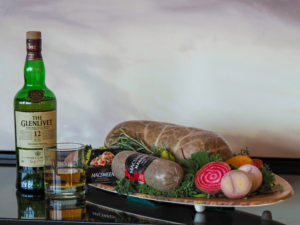 A traditional feast of Cullen skink, followed by haggis, venison and, of course, whisky flights, set the mood for the live auction to begin. With Fred Lee of CBC Radio at the helm, the event raised over $12,000 with all proceeds to the Plaid for Dad campaign to cure Prostate Cancer. Highlights of the auction were a Helijet Tour over Vancouver for a birdseye view of the BC Day Fireworks; and a Business Class trip for Two to Scotland, donated by British Airways, Apex Hotels and Virgin Trains.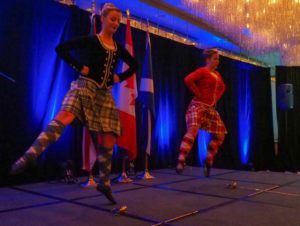 Sated and warmed with whisky and good food, guests enjoyed the award winning Shot of Scotch Highland Dancers, followed by an entertaining Toast to the Lassies by Stephen Peters and witty Reply by the Lassies by Kerris Hougardy, Vice-President of British Canadian Business Assn. With the men put properly in their place, the evening ended with a resounding rendition of Auld Lang Syne.
Pan Pacific Vancouver thanks everyone who helped make this night a wonderful success, with a special mention to:
Authentic Wine and Spirits Merchants
Rugby Canda
HeliJet
Virgin Trains
ScotCanBC
SFU Scottish Studies
British Canadian Business Association
Apex Hotels